Once in a while, in the middle of ordinary life, love gives us a fairy tale.
Some of us believe in the happy ending of fairy tales. Others are a bit more "realistic" and feel like fairy tales belong on TV screens and between the pages of a novel.  
 On July 31st 2015, my fairy tale became my reality. On our first evening in paris,  my husband got on one knee and asked me to be his wife. Here I was standing in front of the love of my life, in the most romantic city in the world, making one of the happiest decisions of my life.
It felt unreal! But every single bit of it was real. This was really happening to me!  Right in the middle of my ordinary life, love gave me a fairy tale that I will forever cherish.
As Valentine's day is approaching, I would love to share with you bits and pieces of my fairy tale engagement in the city of love, Paris.
After I said Yes to the love of my life, our romantic evening ended at Ladurée, a French luxury bakery located in one of the most beautiful avenues in Paris, Les Champs-Élysées.   We had a lovely tasteful dinner in a dreamy atmosphere, and toasted to our new life ahead.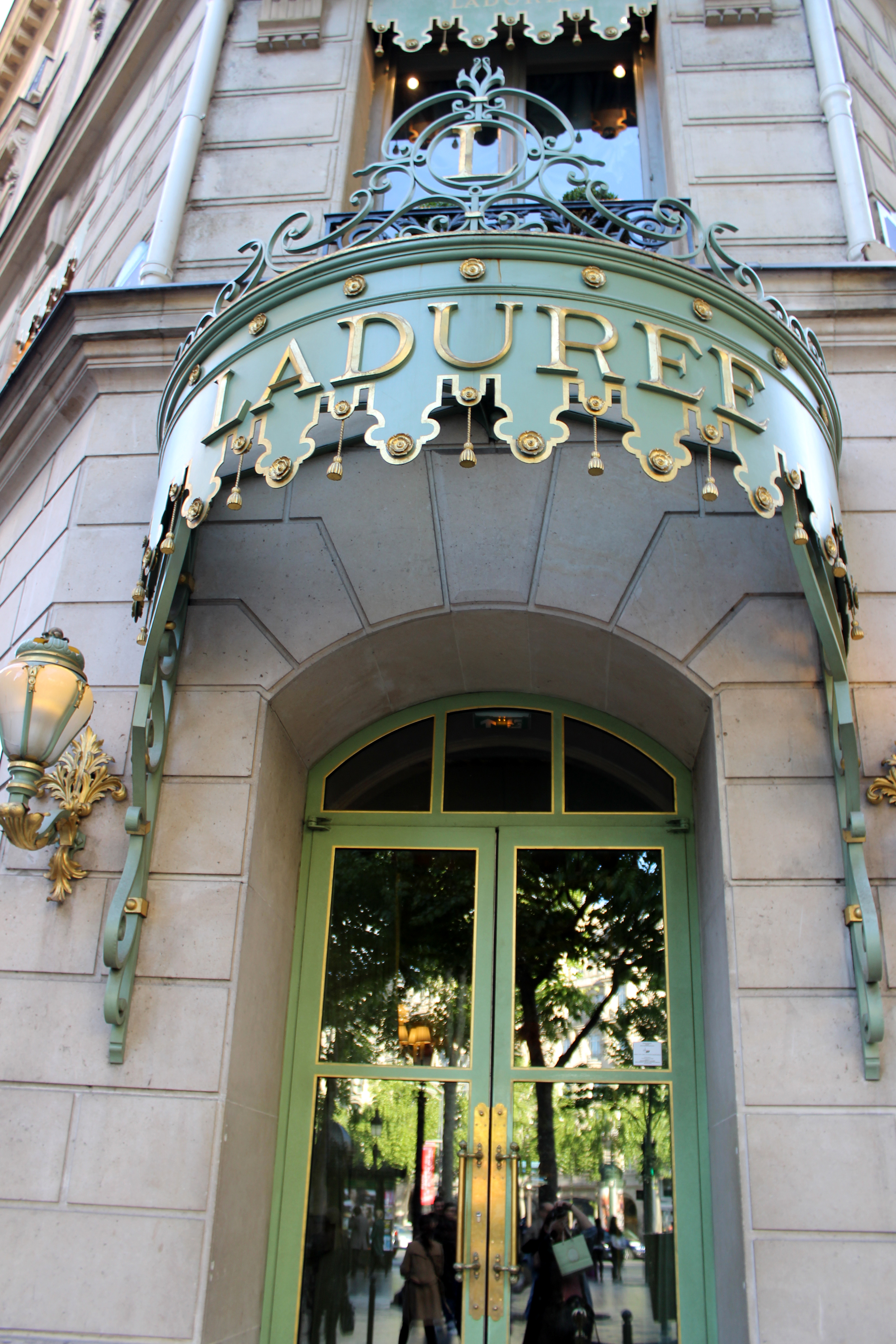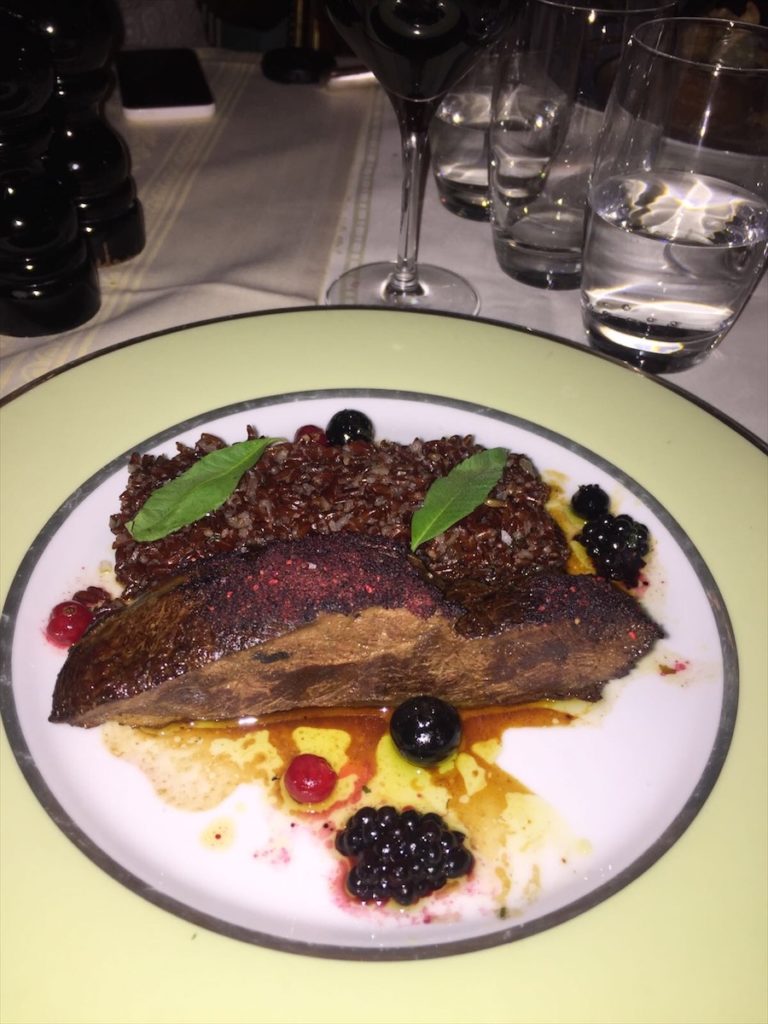 The next morning we headed to our Photo shoot with The Paris Photographer which we had previously booked as I wanted to take professional pictures in Paris. As you can imagine, this shoot turned out to be our engagement shoot!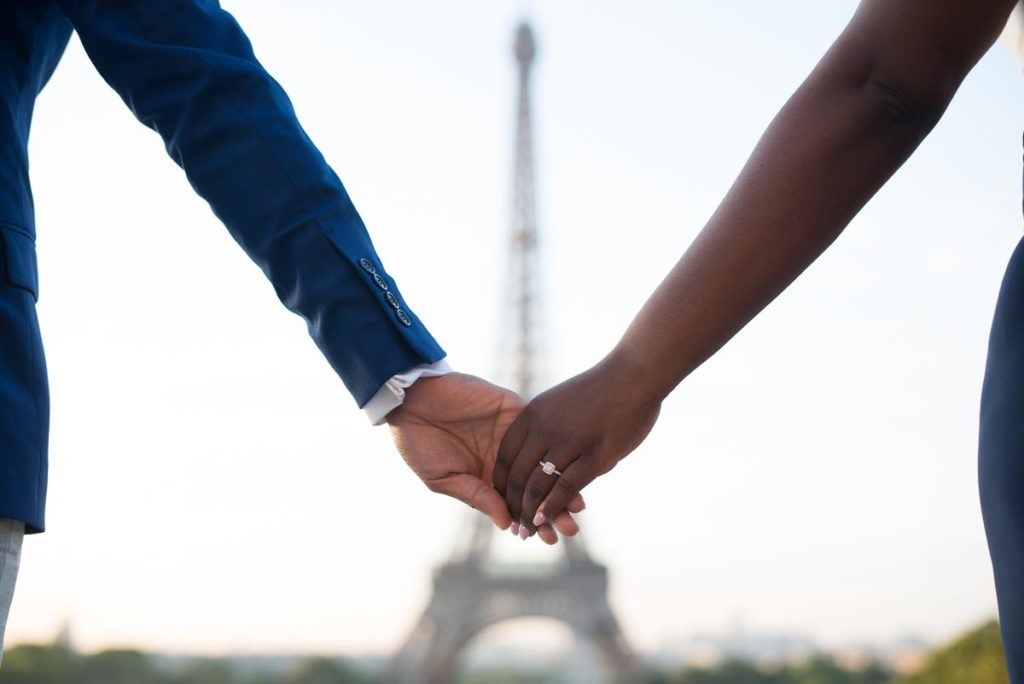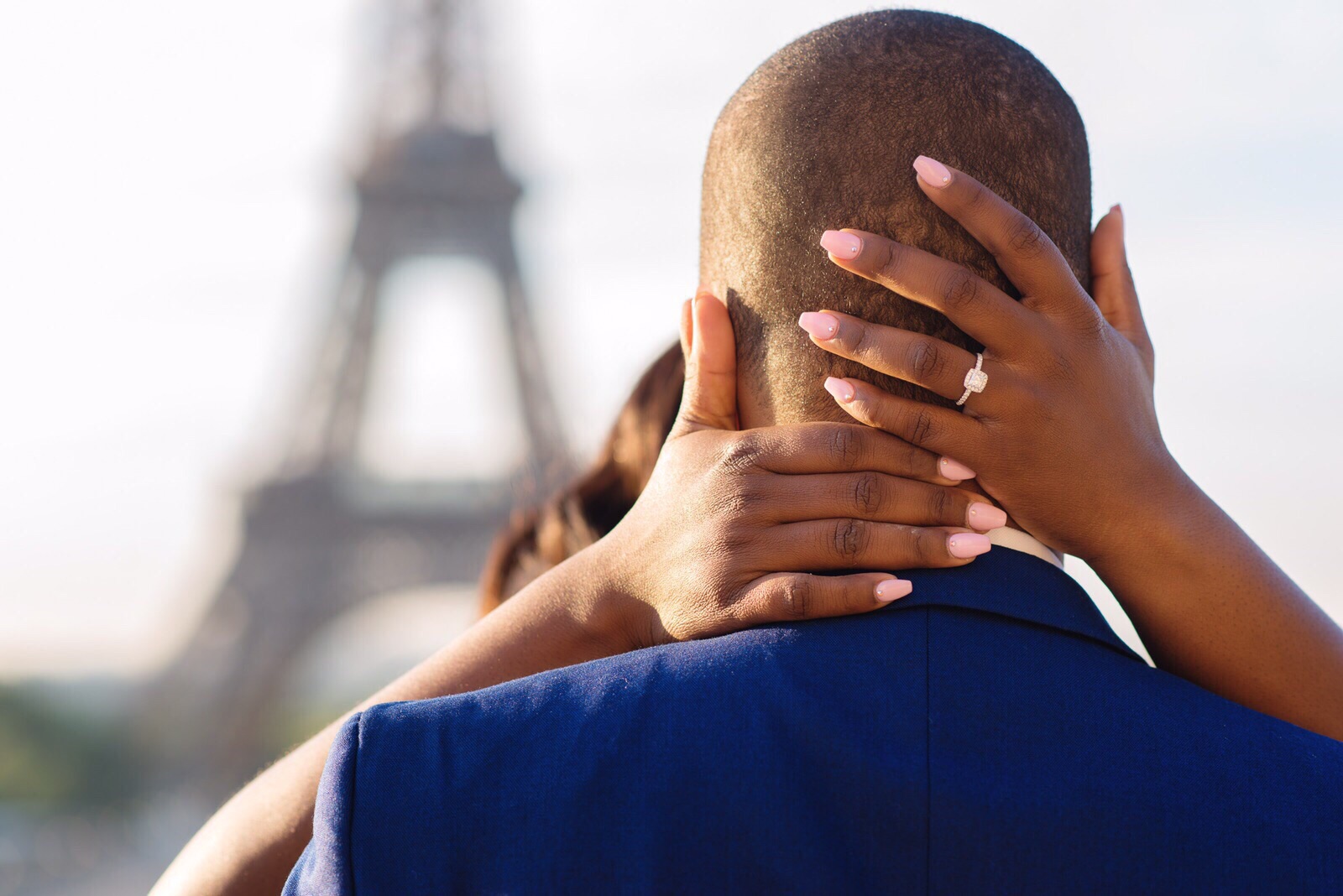 Our shoot started at 6am the next morning. We met Fran, the photographer, on the  Trocadero right in front of the Eiffel Tower. He wanted us to start shooting early before the tourists came out and the place got crowded , but also before the sunrise so we could take these candid silhouette shots.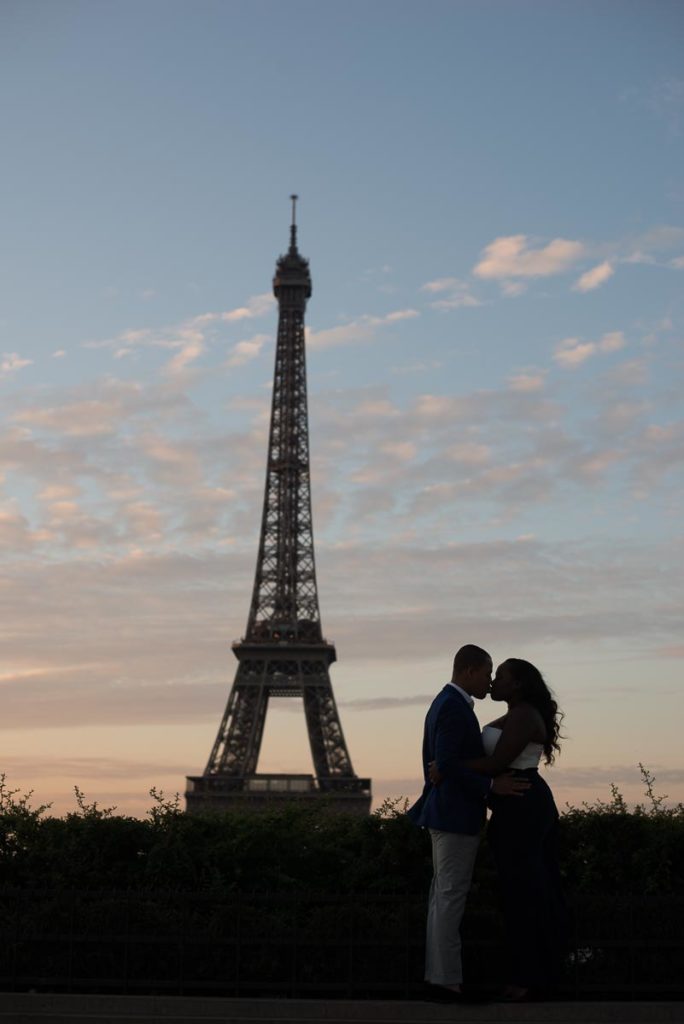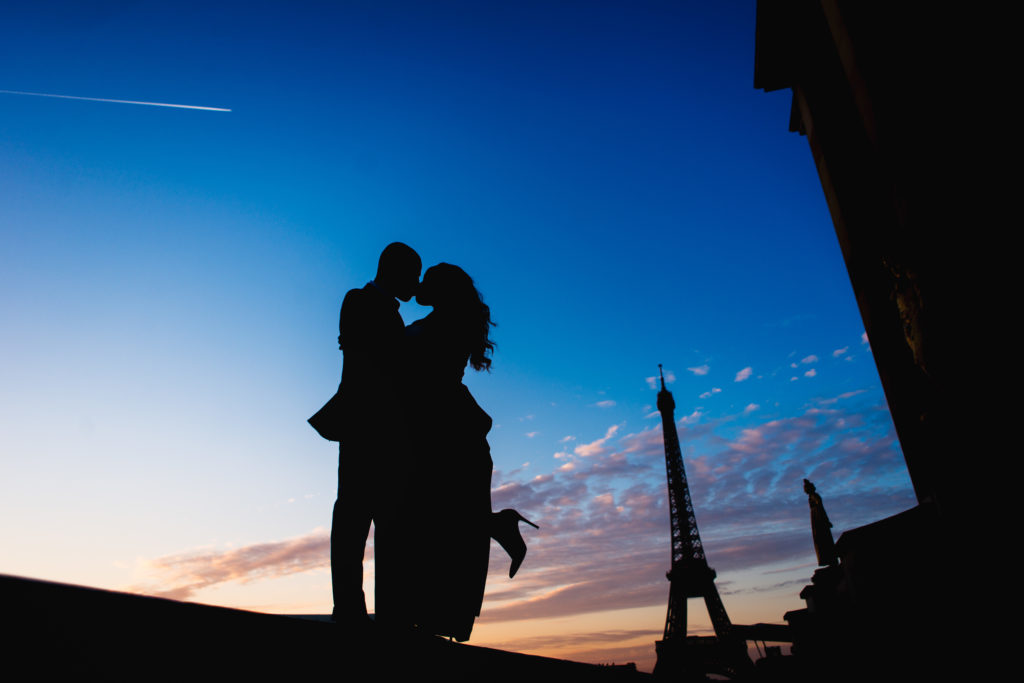 We had so much fun shooting with Fran. The scenery was mesmerizing, and we used lots of different props that we found around us such as the golfer also shooting with a different photographer, the birds chasing their morning meals, and the iconic Eiffel Tower.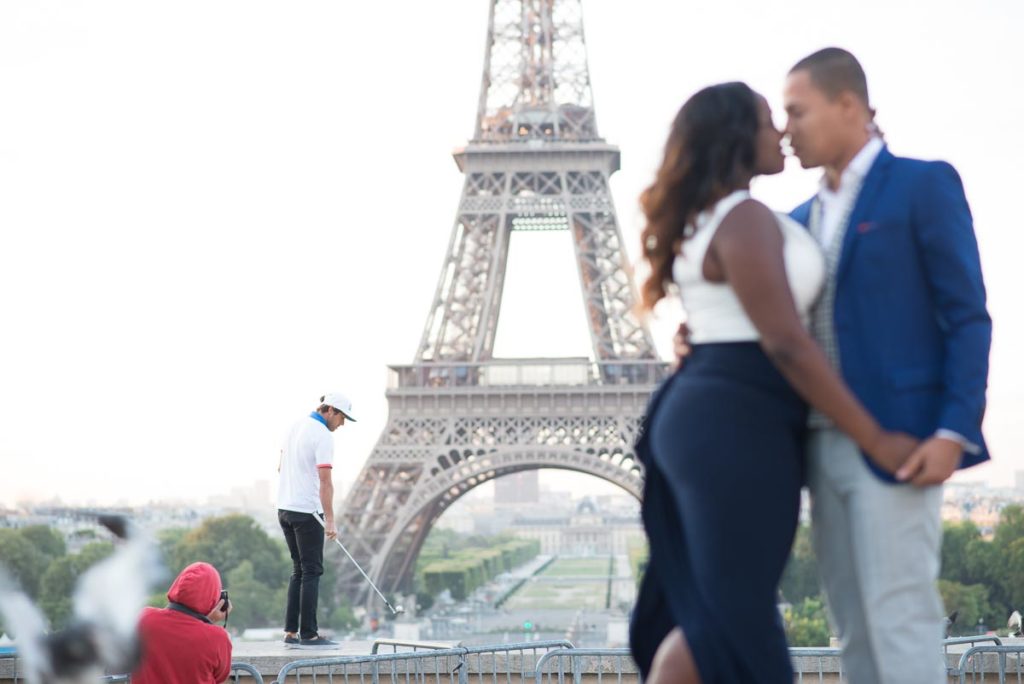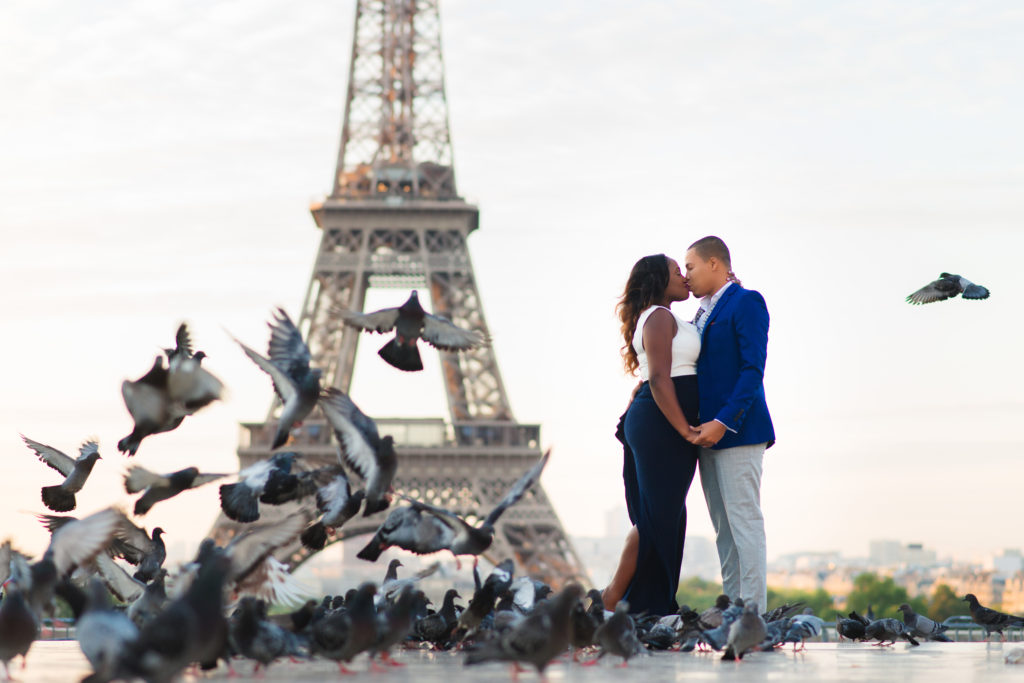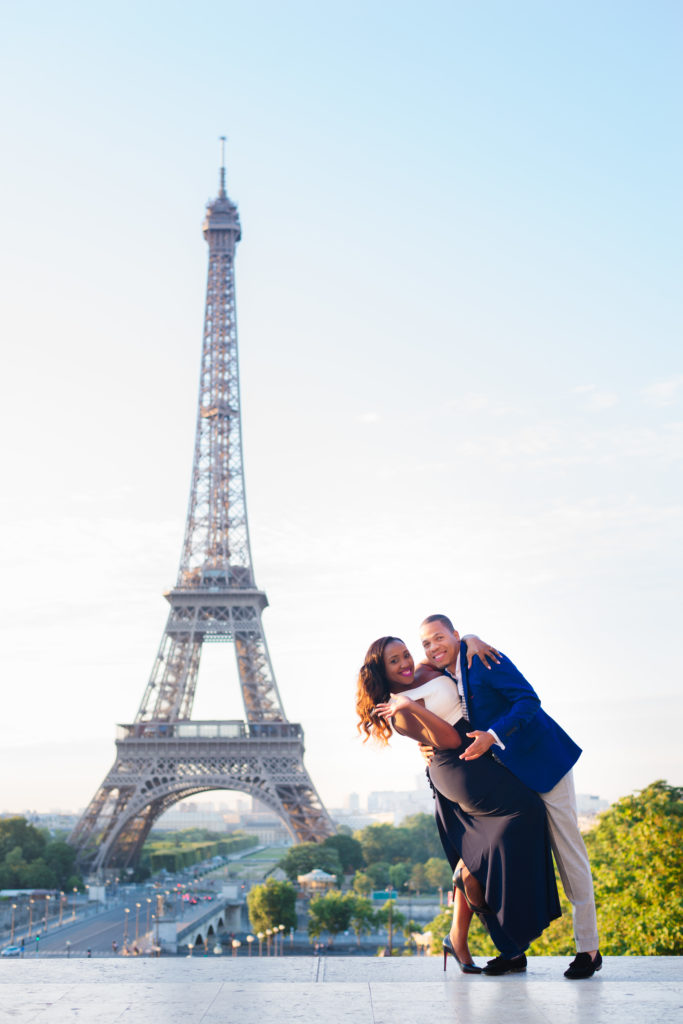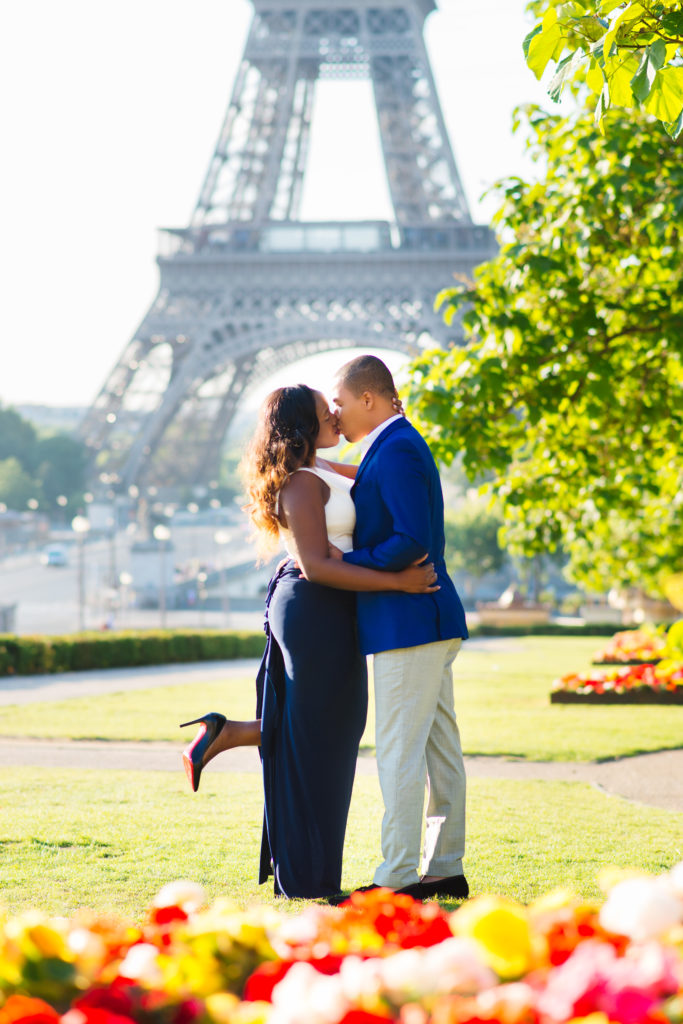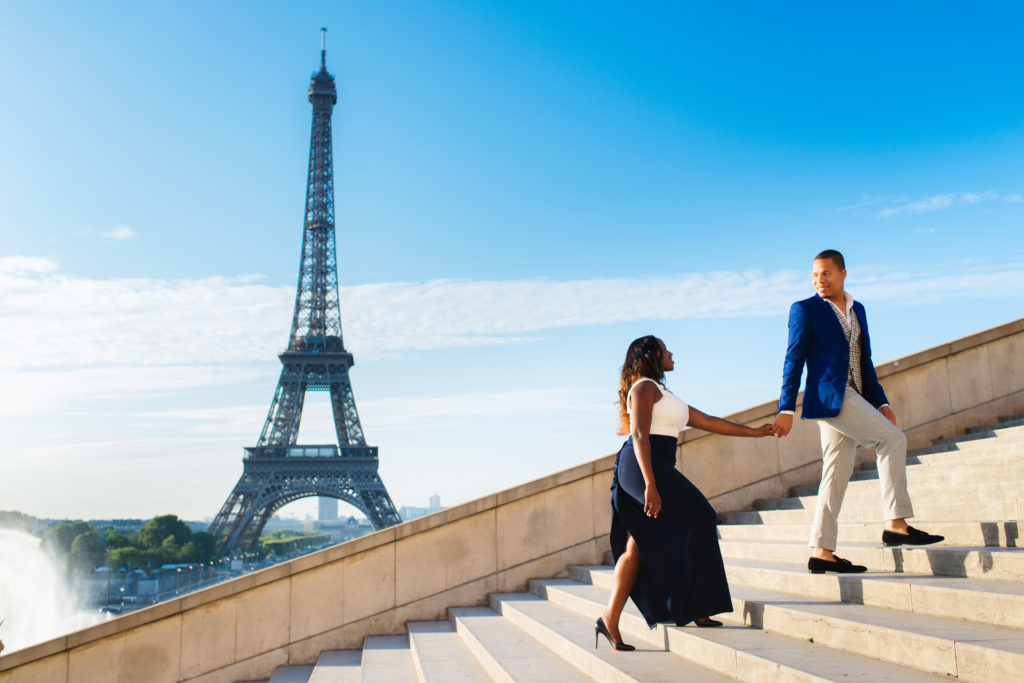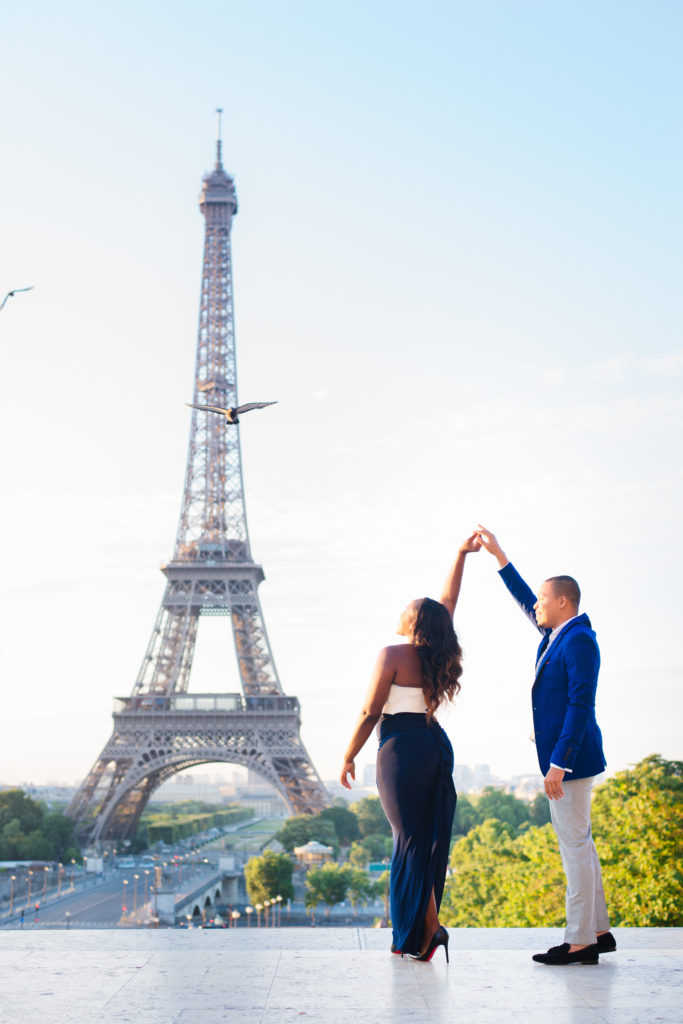 After taking hundreds of shots, we headed off to a small coffee shop right across the street to have breakfast, which consisted mainly of coffee and macaroons. After we chatted a bit with Fran, our photographer, he proceeded to take several more shots, in a different setting, including some creative shots of my engagement ring. I was amazed at how creative our photographer was. In fact, one of the shots of  my engagement ring that he took on his Iphone was featured on several wedding pages on Instagram and Facebook.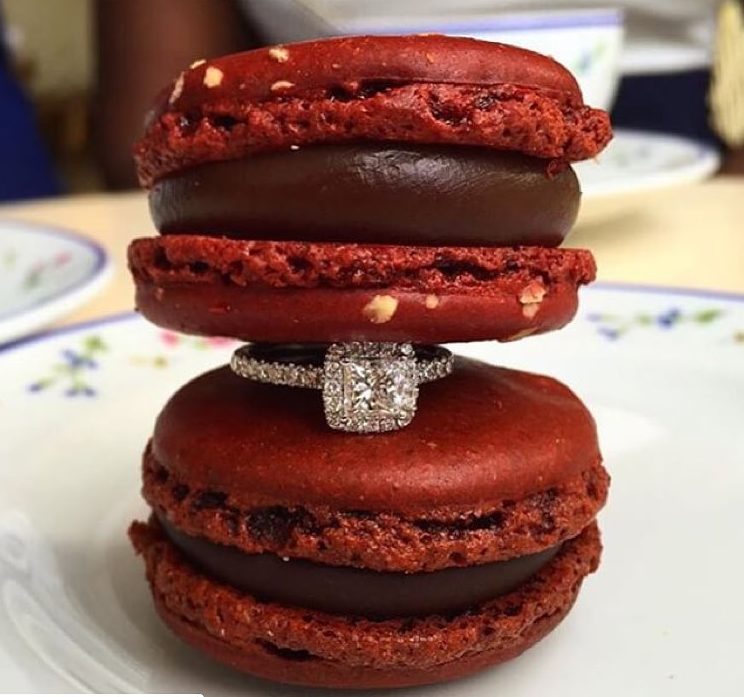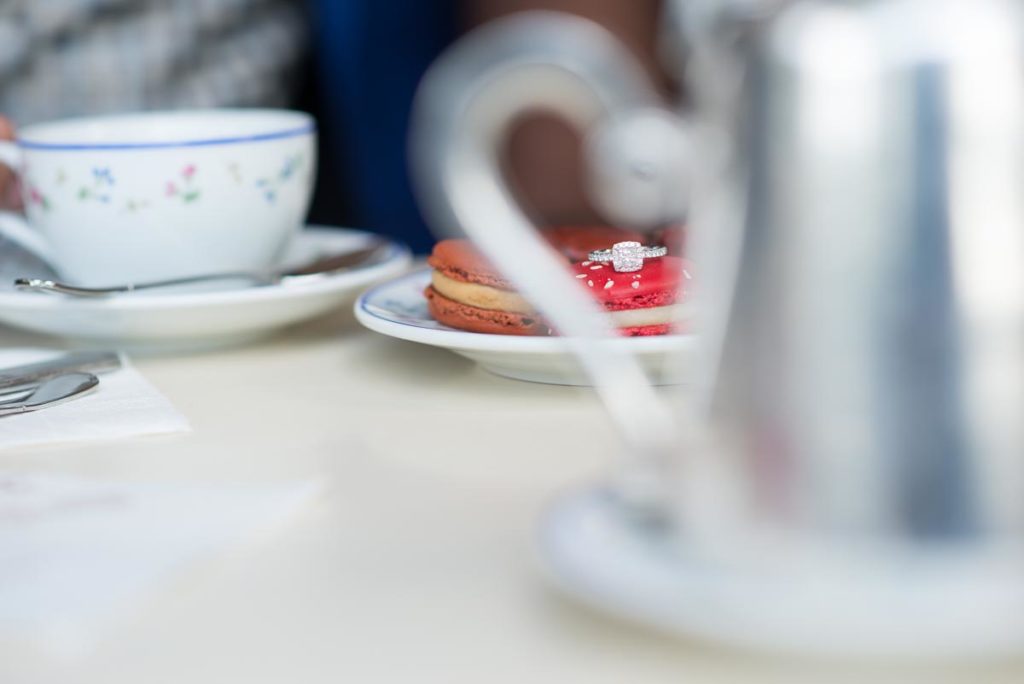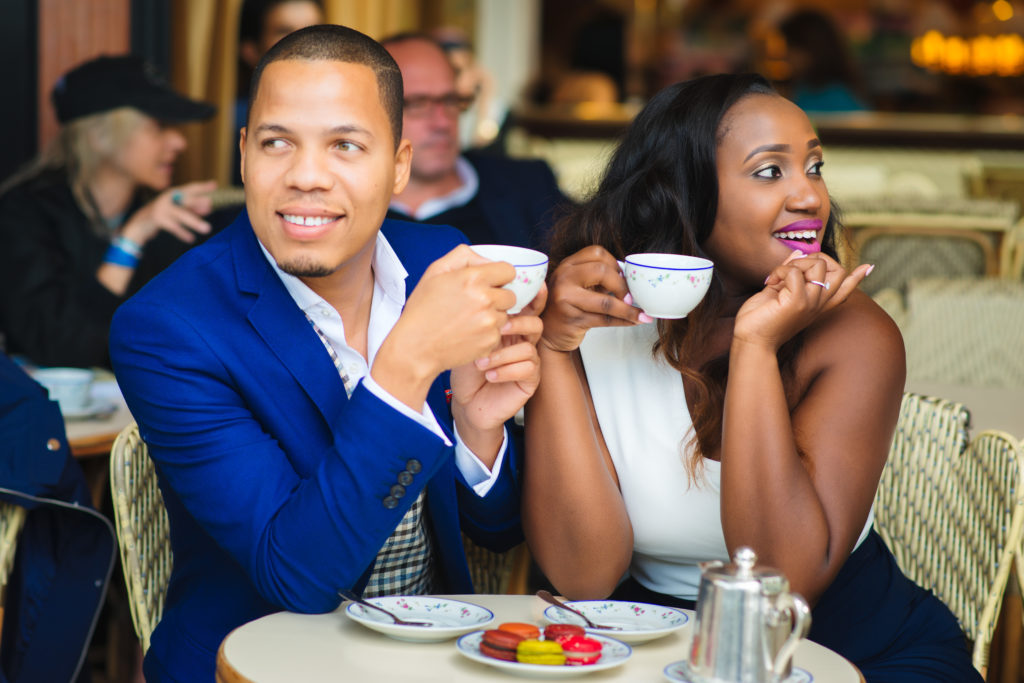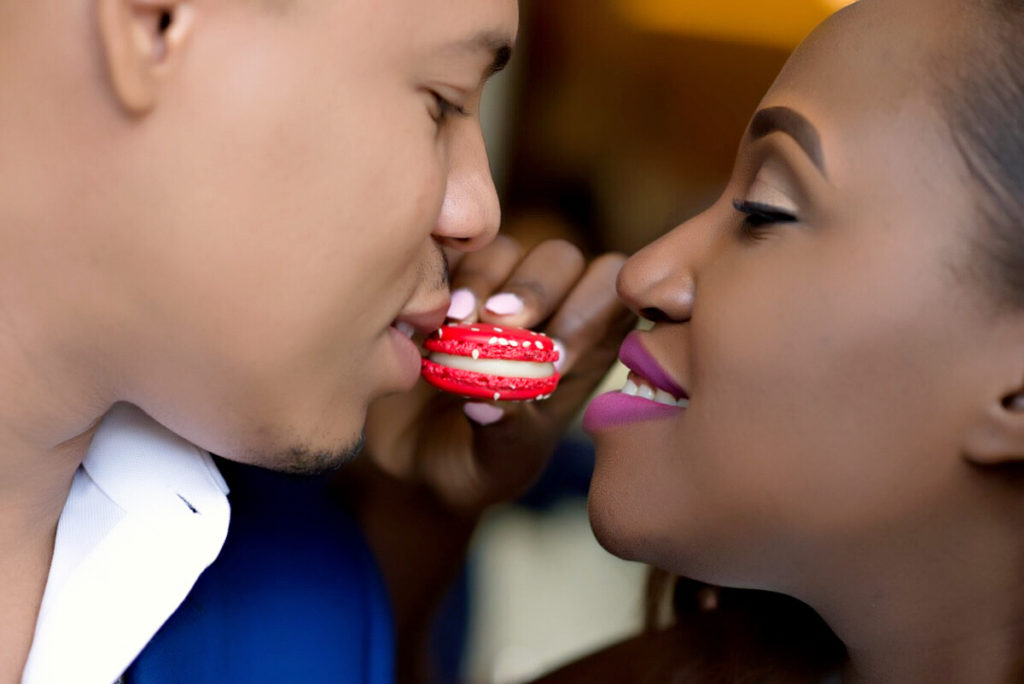 Getting engaged in Paris was more magical than I ever imagined. My engagement has truly been a memorable highlight in my life. I'm so thankful for my husband for allowing me to live that blissful summer vacation, and even more grateful to God for answering my prayers in an unimaginable way. 
I'm glad we chose an awesome photographer who was able to capture the essence of our relationship. A friendship set on fire. This was my real life fairy tale. The beginning of a beautiful lifetime of friendship.
I would love to hear about your own proposal stories, or better yet your dream fairy tale proposal! As you can see, you never know when love will surprise you with your own fairy tale.
...and they lived happily ever after!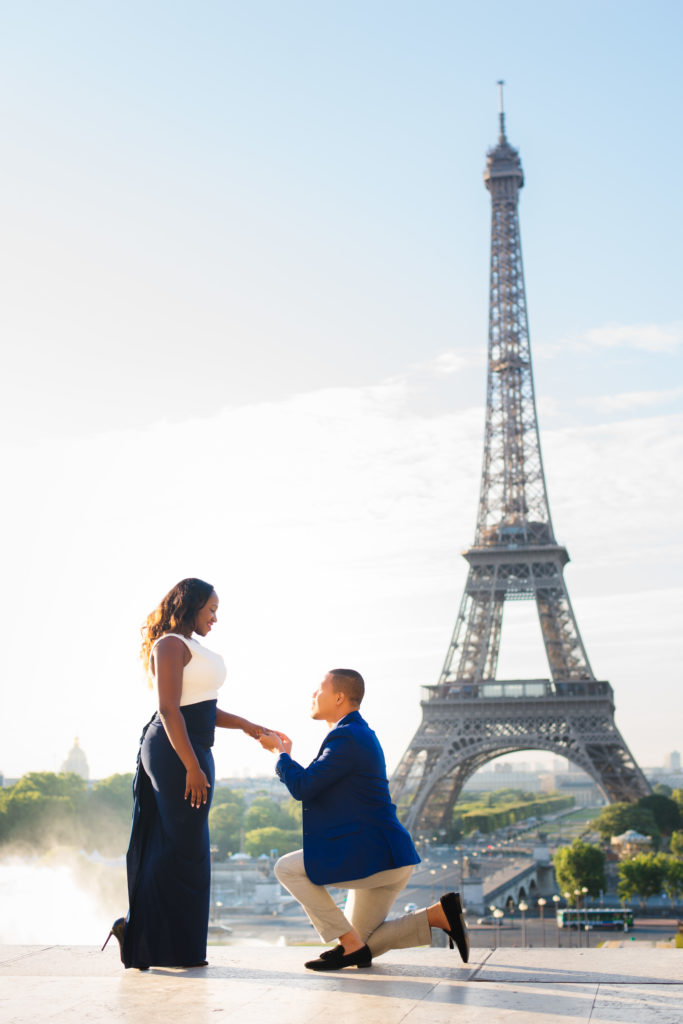 The following two tabs change content below.
Laura
I am an early childhood educator who has fallen in love with the life that I have been given. I am inspired by the beauty in everything that surrounds me to live my best life, loving my hardest, and traveling the furthest possible. Join me on my adventures through life.
Comments
comments