Stuff your eyes with wonder, live as if you'd drop dead in ten seconds. See the world. It's more fantastic than any dream made or paid for in factories." – Ray Bradbury
Summer may be coming to an end, but that certainly shouldn't stop you from planning a trip in the fall or winter somewhere warm where you can soak up the sun and swim in turquoise water. If you're looking to get  away from the cold weather in the next upcoming months, then look no further! Picturesque Phuket, with some of Thailand's most popular beaches, is your spot!
I still daydream about this vacation where everything looked out of a postcard, a whole year later! My husband and I planned the perfect trip last year for our honeymoon, and there isn't a thing that we would change. I know I say that about most of my trips but I spend so much time planning that they always surpass my expectations. From the resort, to our dining experiences,  and day trips, our stay in Thailand was nothing short of amazing.
Where To Stay
I may be a little biased about this resort, but rest assured that I compared several other resorts to this one, and nothing came close to beating the experience offered at Sri Panwa in Phuket, Thailand. Now let me be clear with saying that I have only been to Phuket, and there are so many other beautiful resort islands in Thailand,such as Koh Samui, but this time around I narrowed it down to Phuket, and I was not one bit dissapointed.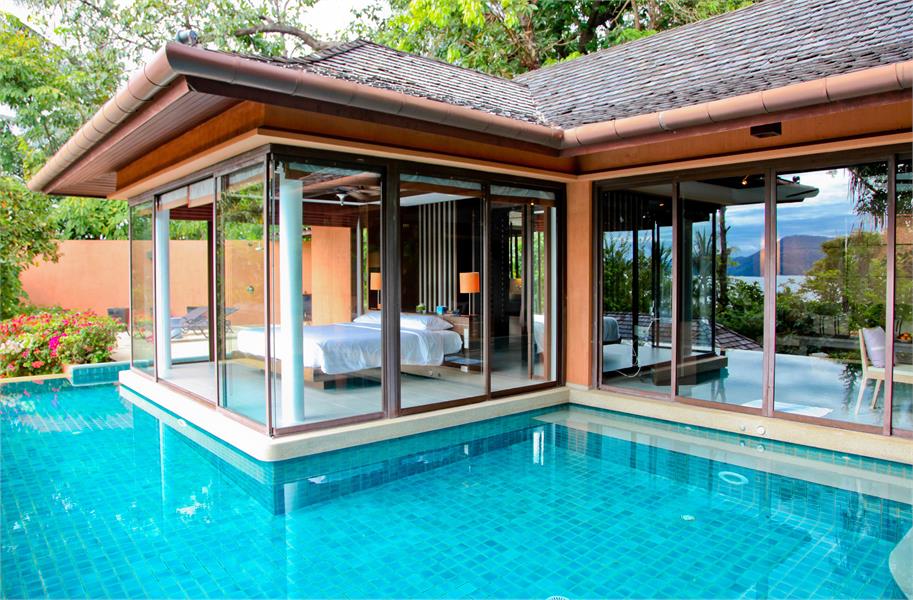 If I'm gonna be honest, I was sold on Sri Panwa the minute I saw the luxury pool villas. I've stayed in resorts where I had a private jacuzzi or a plunge pool in my back yard, like the one at Ayana Resort in Bali but I had never seen a pool wrapped up all around a bedroom before. The view from our bedroom was spectacular, due to our the glass doors and windows. Not only were we spoiled with our own infinity pool, but our villa was also equipped with an outdoor patio furnished with an extensive sofa, an outdoor shower that I took full advantage of, and a jet stream Jacuzzi as if the heated infinity pool wasn't enough! Oh, and did I mention the personal butler assigned to our villa?  Seriously, what else can a girl ask for?
Quick Tip: Sri Panwa is a luxury 5 star resort, therefore it is on the pricey side of things. However, if you are traveling as a group, they also have 2 and 3 bedroom villas that can accommodate larger groups, and if you split the cost, it might be more affordable. If you are traveling as a couple, like we were this obliviously does not apply to you 🙂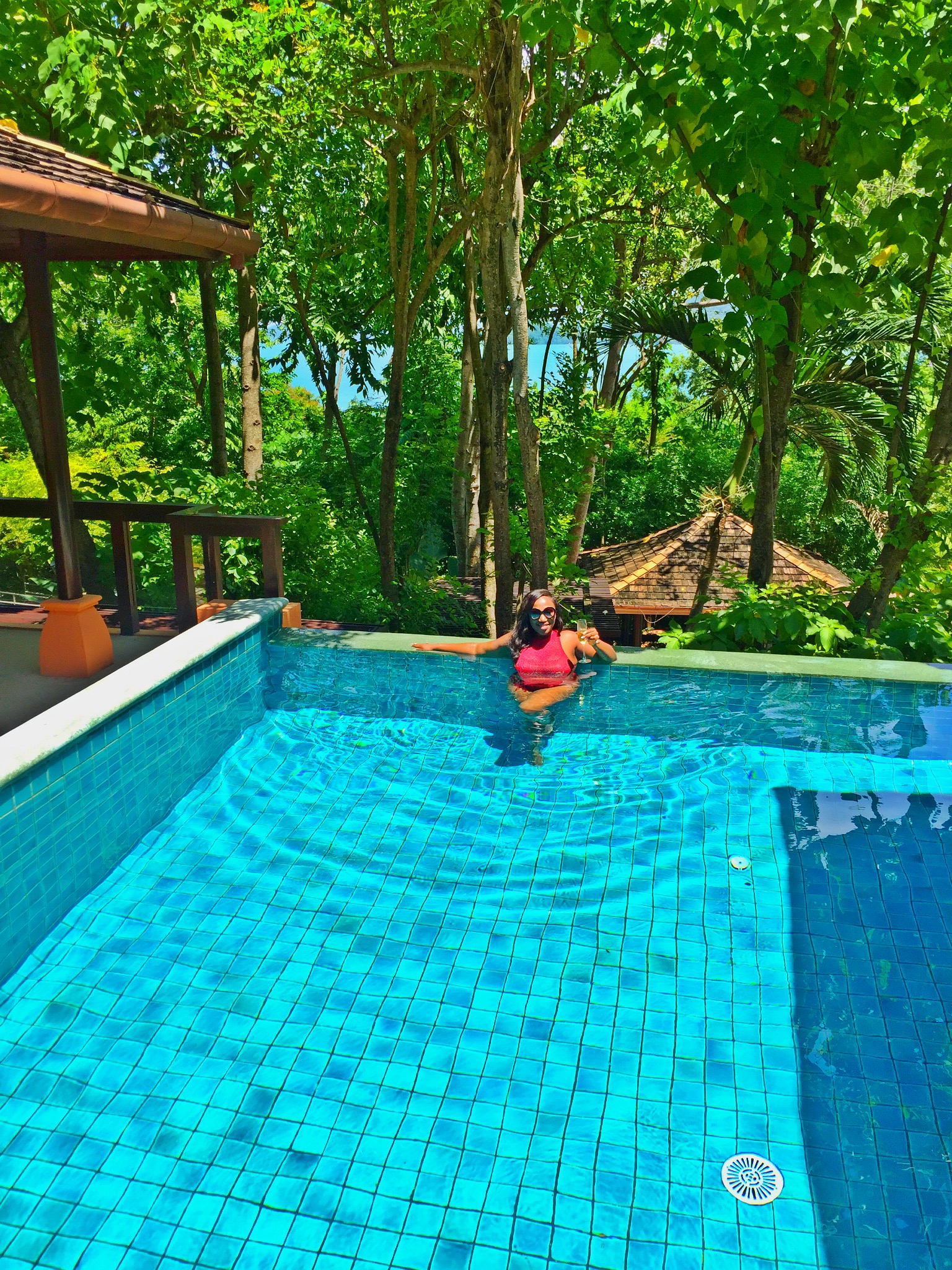 What To Do
I may or may not be the right person to ask about what to do around Phuket because once again I spent most of my time at resort (I mean can you blame me? ) However, I can tell you that there are plenty of things to do around the resort such as Thai boxing, tennis lessons, snorkeling, boating, and certainly being pampered at the spa.
During our stay we took full advantage of one of the resort's iconic pool, located at at The Habitat, where they lodge the penthouse suites!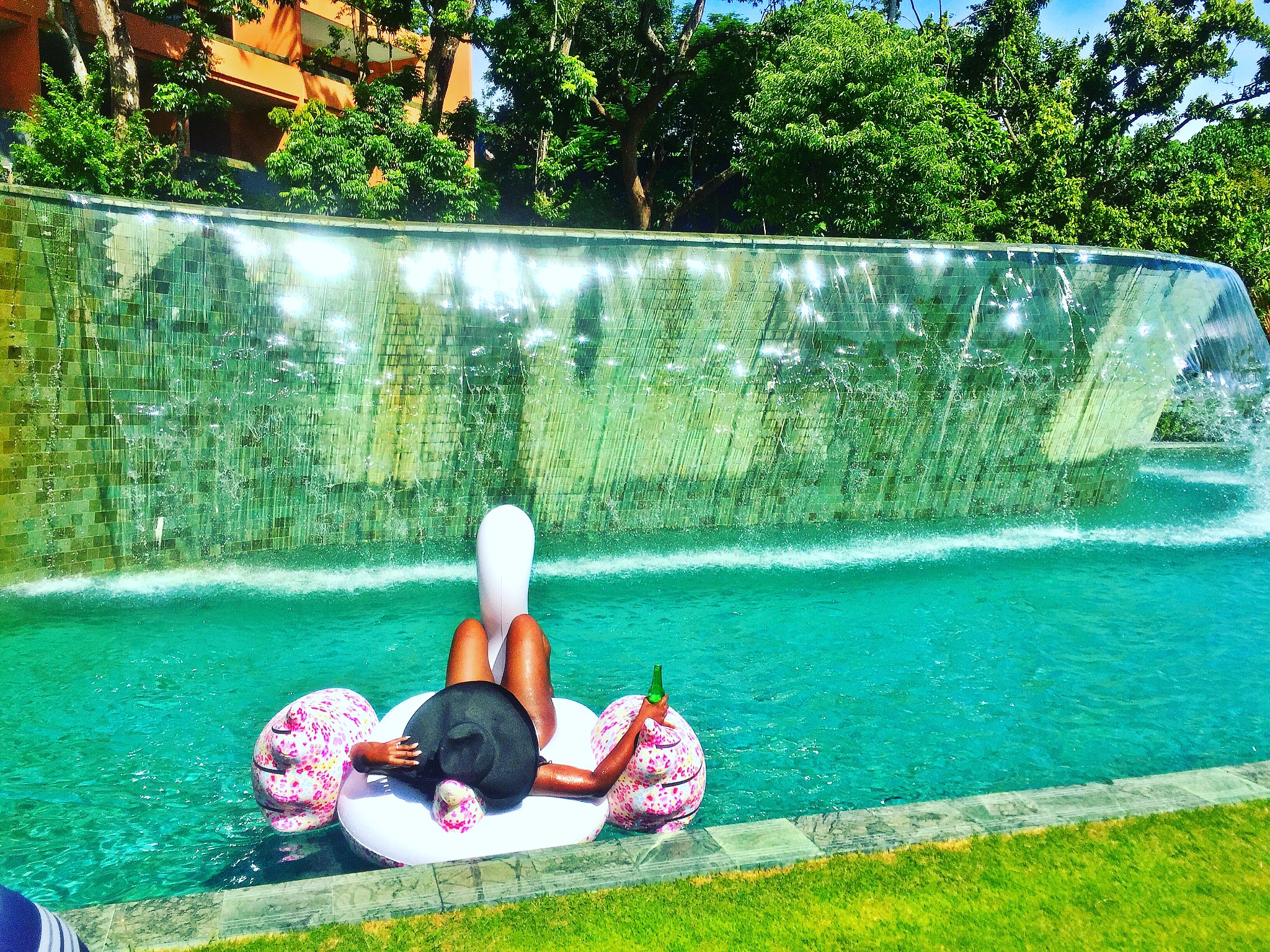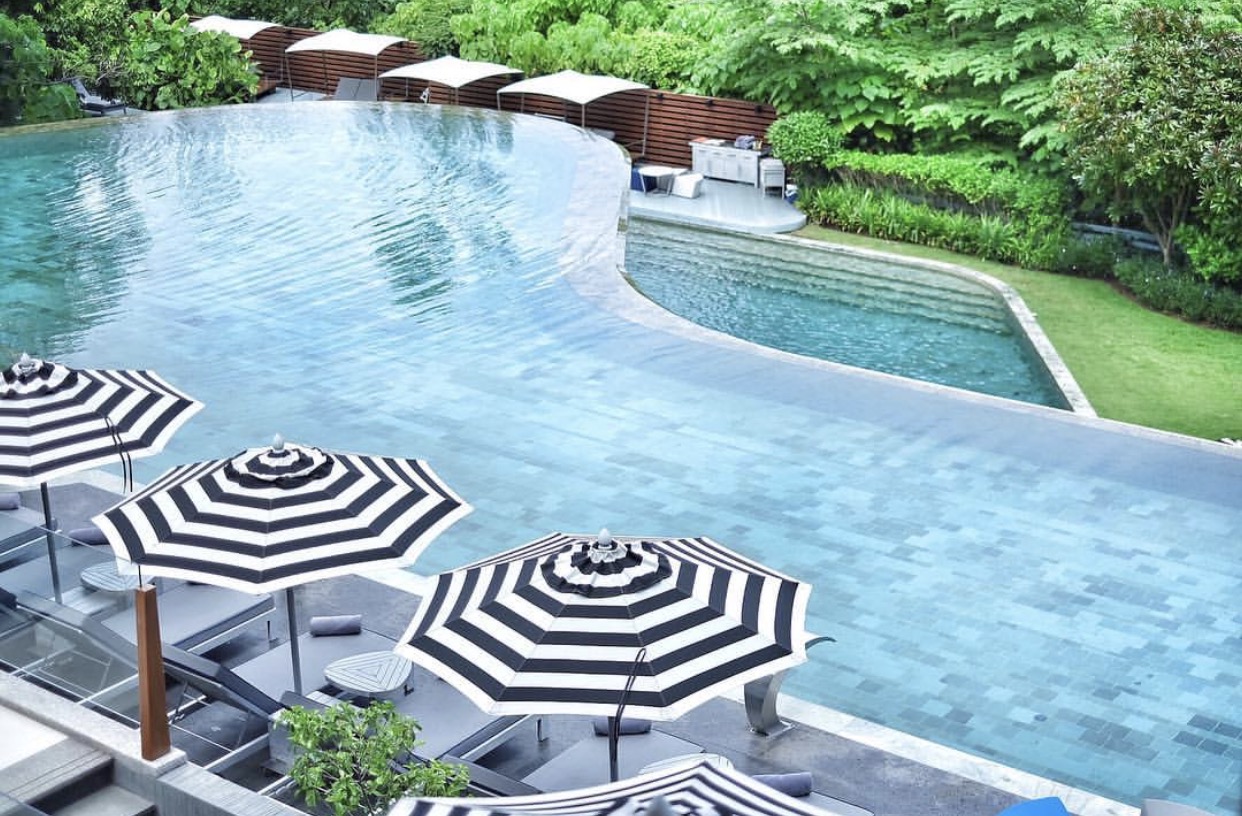 Our most favorite thing to do while on vacation is to watch sunsets, and Sri Panwa has just the spot to unwind on the evening while bidding the sun farewell. 
Baba Nest is without a doubt the most stylist rooftop bar that I've ever seen. It is quite hard to get a spot at sundowners for obvious reasons. We were fortunate enough to be one of the few that had the chance to experience such a beautiful scenery. Watching the sun set into the Adaman sea, while sitting next to the wrapped around infinity pool, as we sip on high-end cocktails is sight that I'll never forget.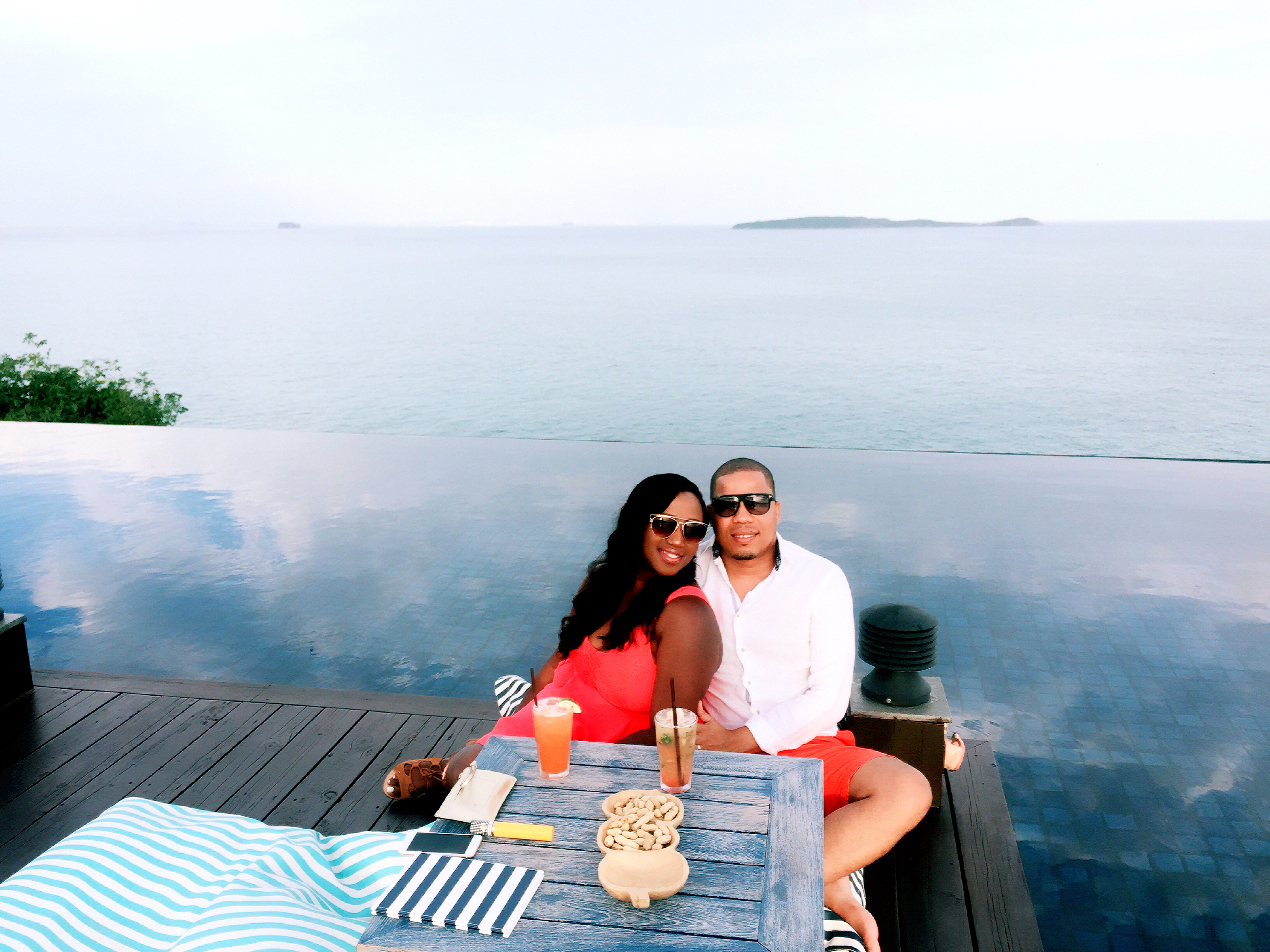 Where To Go
If you only get the chance to do one thing while you are in Thailand, it must be a day trip to Phi Phi Islands!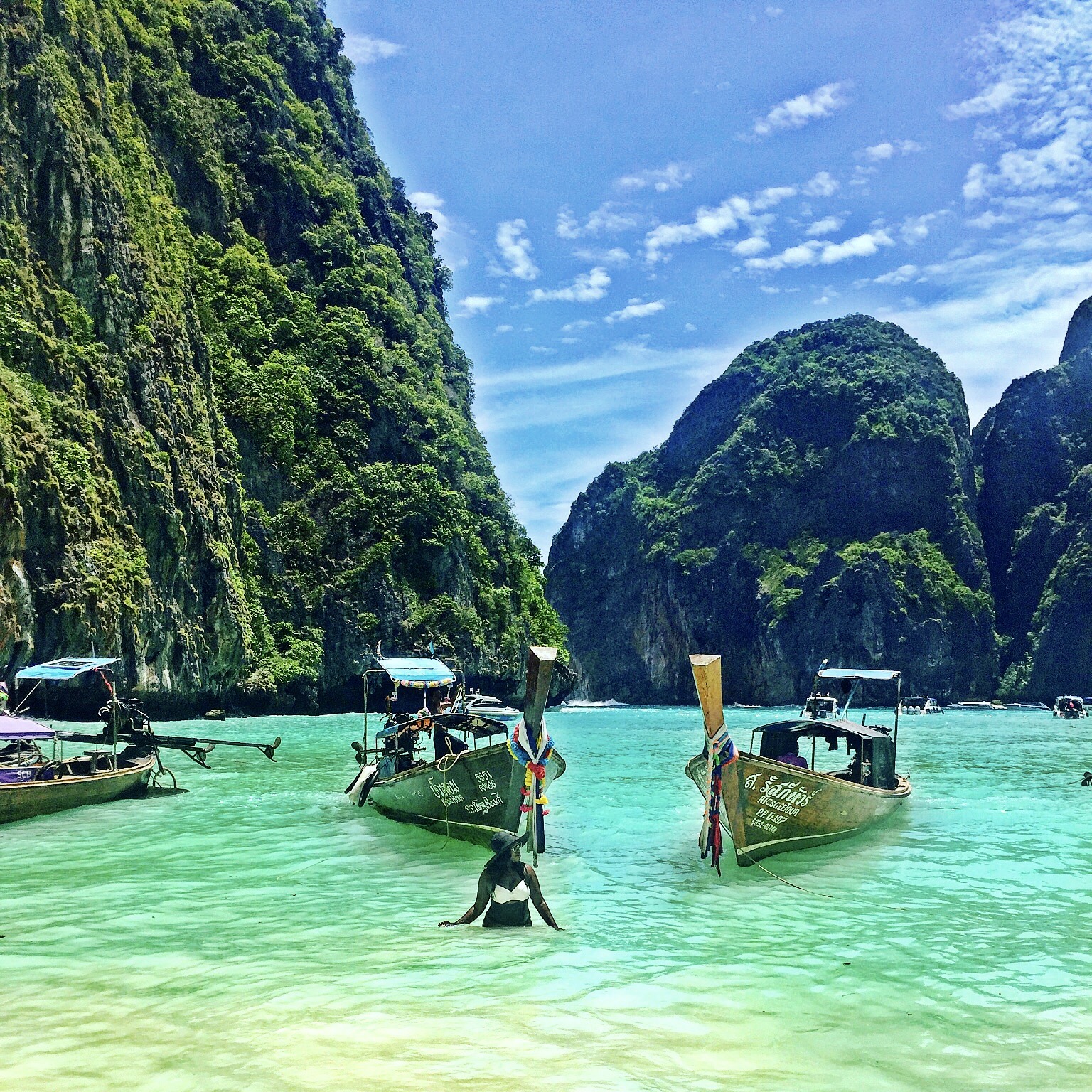 Located a short 90 minutes ride by speedboat, the Phi Phi islands are a group of islands nestled between Phuket and the Malaca coast. The day trip to Phi Phi islands is the only activity that we booked outside of the resort. We were picked up at the resort, and taken to a marina a short 10 minutes drive away. When we boarded the speedboat, we sailed out to what was the most beautiful scenic ride I've ever been on. The islands rising from the sea as the boats approached, made our entire trip to Thailand worthwhile.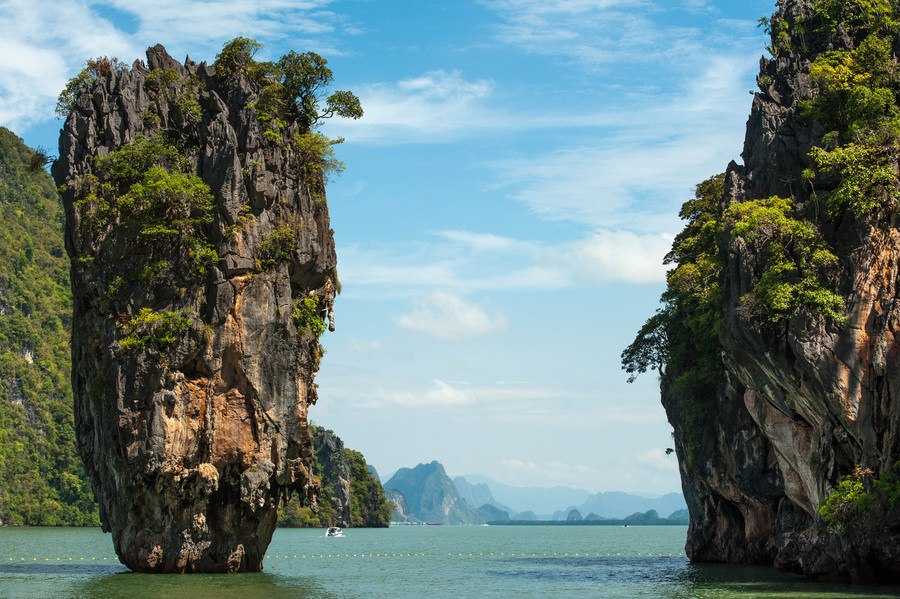 While on our day trip, we had the chance to snorkel, feed the fishes, enjoy the beach where I took some spectacular photographs. If you ever find yourself in Thailand I highly suggest that you take some time to head out to Phi Phi islands, where the picturesque scenery will be the topic of your conversations for years.
Although I did not get the chance to  explore the main island a little more due to our short time in Phuket, Our few days spent indulging in nothing but luxury and beauty were enough to make me fall in love with this gem in Asia.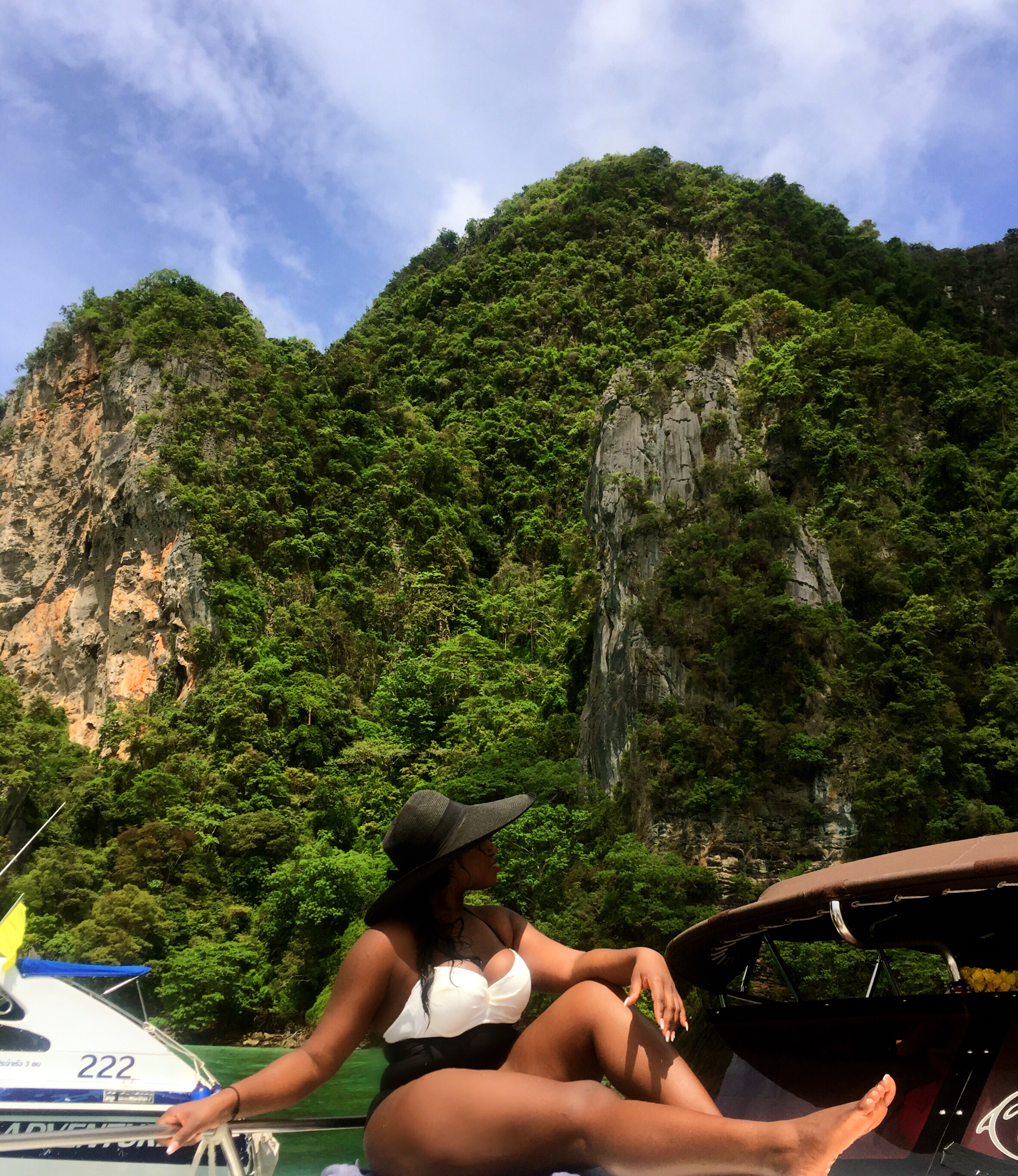 The following two tabs change content below.
Laura
I am an early childhood educator who has fallen in love with the life that I have been given. I am inspired by the beauty in everything that surrounds me to live my best life, loving my hardest, and traveling the furthest possible. Join me on my adventures through life.