I am currently on my flight to Costa Rica for a long overdue getaway with my husband. Those who know me well know that I'm known for running behind, unless it's for a flight of course (it's a shame I know!). No one wants to be late for a vacation ! This morning I had a flashback of the episode where I missed my flight last month, where I was due for an important work meeting in Haiti. We were running pretty tight on schedule, but since I checked us in the night before, and we weren't checking in any luggage, I somewhat felt at ease with hopes that the security lines wouldn't be too long. All we had to do was present our passports since it's an international flight and print our boarding passes. Well, that certainly wasn't the case! You should've seen the look on my face when we were directed towards the international check in, where the line was ginormous ! There's no way we'll make it, I told my husband. As he patiently got in line, I looked around for the nearest agent and nicely asked if there were any kiosks available where we could print our boarding passes. The flight was leaving in an hour and we still had to go through security. Part of me knew we were at fault for cutting it so close, but I was praying and hoping that he would miraculously find a way for us to skip the horrendous line. Well, my prayer was answered when he said «  the line is too long, go to domestic and just ask then to print your boarding pass  since you already checked in and you're not checking in any bags » It's like he had heard my prayer word for word. Needless to say, we made it to the gate just in time, and are on our way to Costa Rica. This little blessing, could've changed the outcome of my entire vacation. So today I'm especially thankful for this agent, who didn't fuss nor played the blame game, and made it possible for us to make our flight.
I'm so excited about this trip, this is our first time in Costa Rica, and I can't wait to discover yet another country. I pray for traveling mercies and that we have an amazing experience during the next fews days.
Have you experienced a little blessing or miracle today ? Look closely, I'm sure you'll find plenty !
Update: We made it safely to Costa Rica, and this is a picture of me watching the beautiful sunrise this morning!
Pura Vida!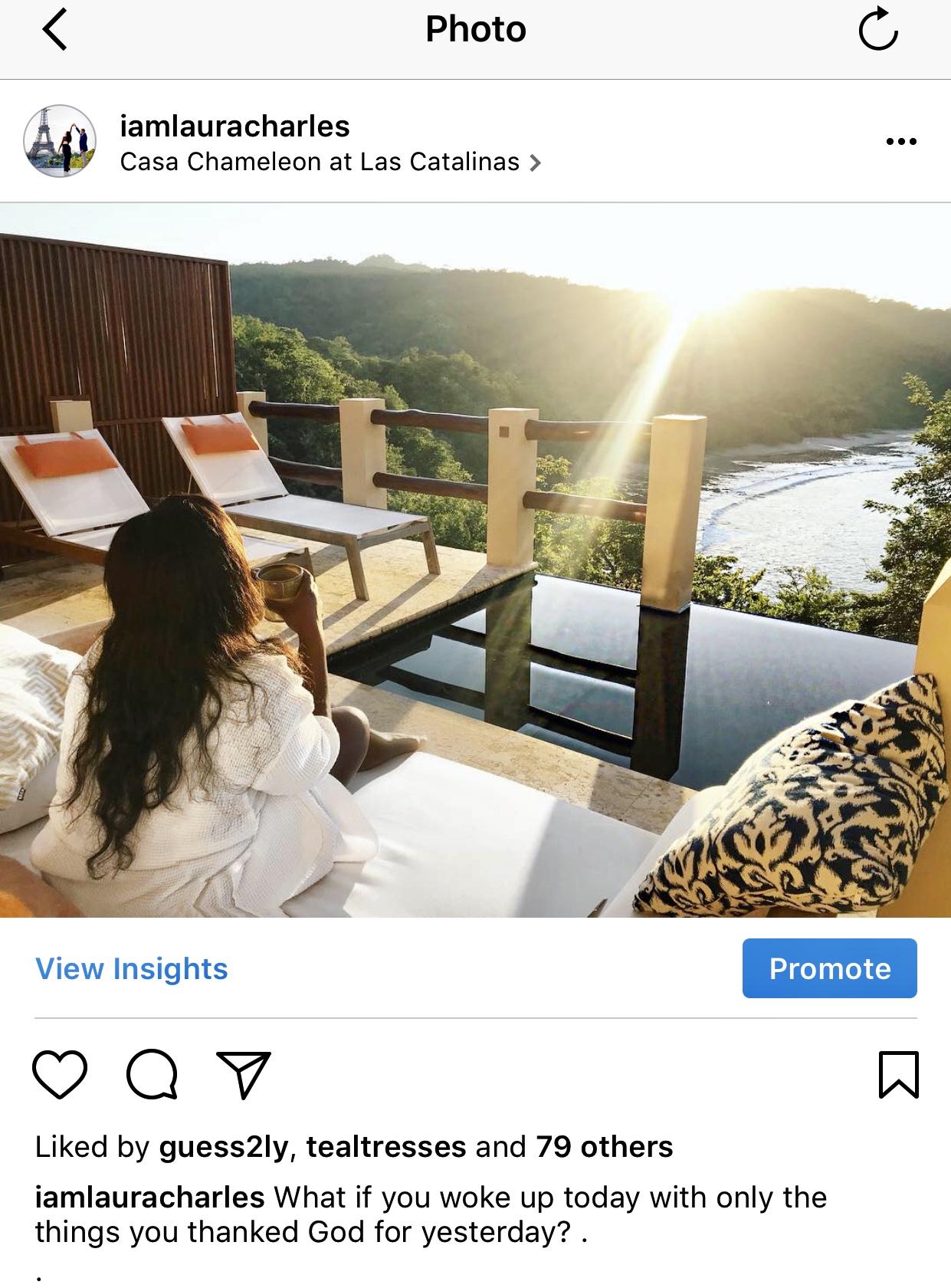 The following two tabs change content below.
Laura
I am an early childhood educator who has fallen in love with the life that I have been given. I am inspired by the beauty in everything that surrounds me to live my best life, loving my hardest, and traveling the furthest possible. Join me on my adventures through life.
Comments
comments