Planning a trip can be very time consuming, especially when you aren't using a travel agent or when this is your first time visiting a country. As much as I have been traveling, it still takes me weeks of research and planning towards my trips. When my husband and I finally found some time to squeeze in a trip this year, we opted for Costa Rica, a country he always wanted to visit. This time around we were only traveling for a few days, so I thought that the planning would be a breeze. How foolish of me! I most certainly underestimated the amount of time it would take me to plan this short trip. Now that our trip has officially been a success, I thought I would save you some time and share with you some of the things that you should know when you are planning your very trip to Costa Rica. 
#1 Flying To San Jose Is Always Cheaper
There are two main airports in Costa Rica, Juan Santamaría International Airport (Code: SJO) and Daniel Oduber International Airport in Liberia (Code: LIR). When you are looking for airfare, you may often find that it is cheaper to fly to SJO located in the capital,  San Jose. However, most of the attractions are outside of San Jose, and your accommodation may end up being hours away. I didn't know this until after our flights was booked to San Jose. It turned out that our resort was located closer to the Liberia airport, and now we were looking at a 6hr drive from San Jose! Initially, we had planned on renting a car from the airport  but after realizing how much of a drive it was, we moved on to plan B which brings me to my second point.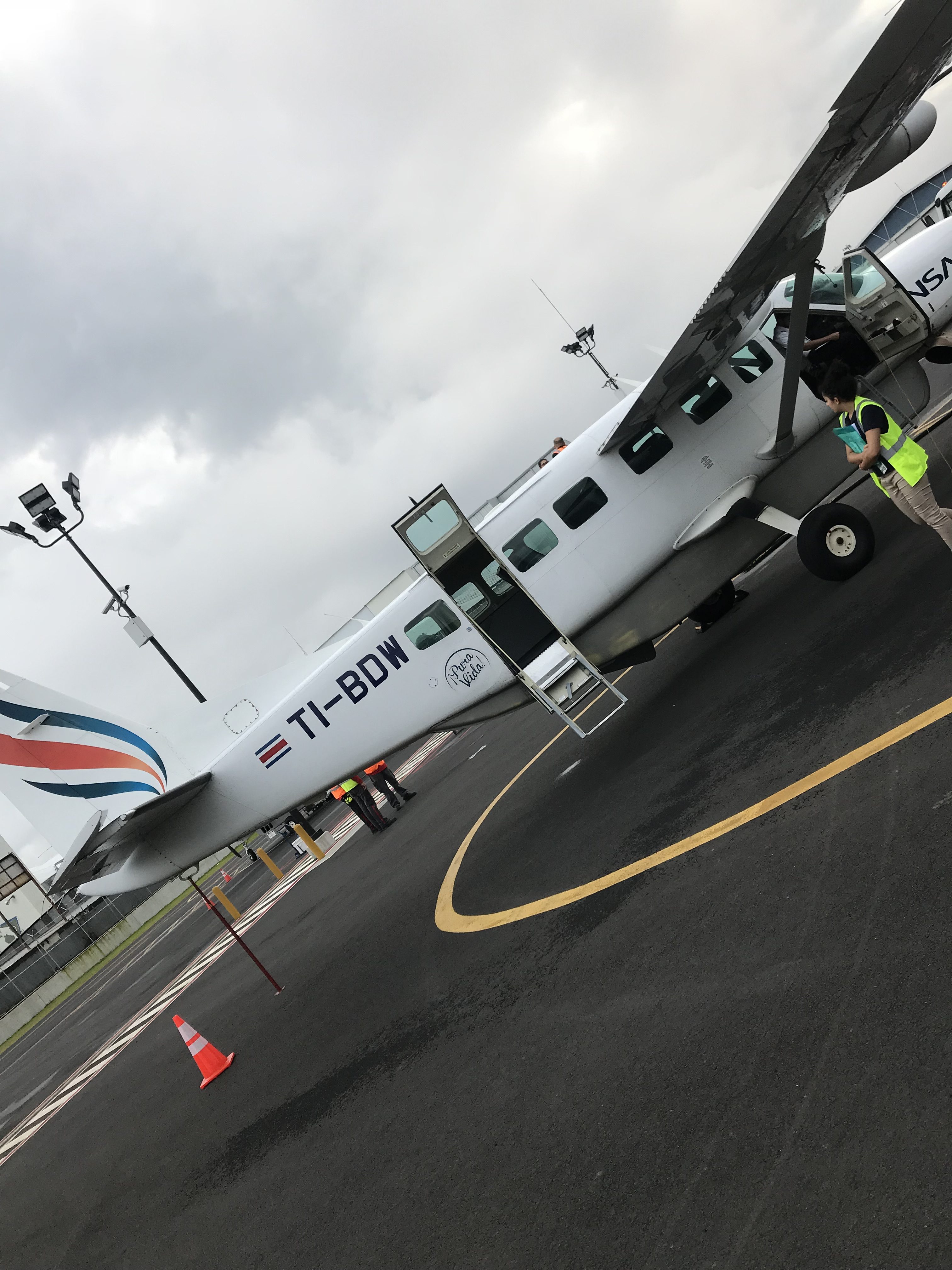 #2 Local Flights Are Convenient And Affordable
Depending on your accommodation, you may find that booking a local flight will make your life so much easier. I personally did not want to either drive nor sit in car for 6hrs after my flight. Our options were to either drive, book a public or private transfer, or a charter flight from SJO to Liberia. After looking into all the options, we found that flying was much more convenient. We found that both local airlines Sansa and Nature Air had flights to Liberia airport, which was 40 mns away from our resort. We booked our transfer with Sansa airlines, which was a short 30 mns flight from San Jose. The ticket costs us abour $70 Per person. It was my first time flying on a small jet, and it was so fascinating.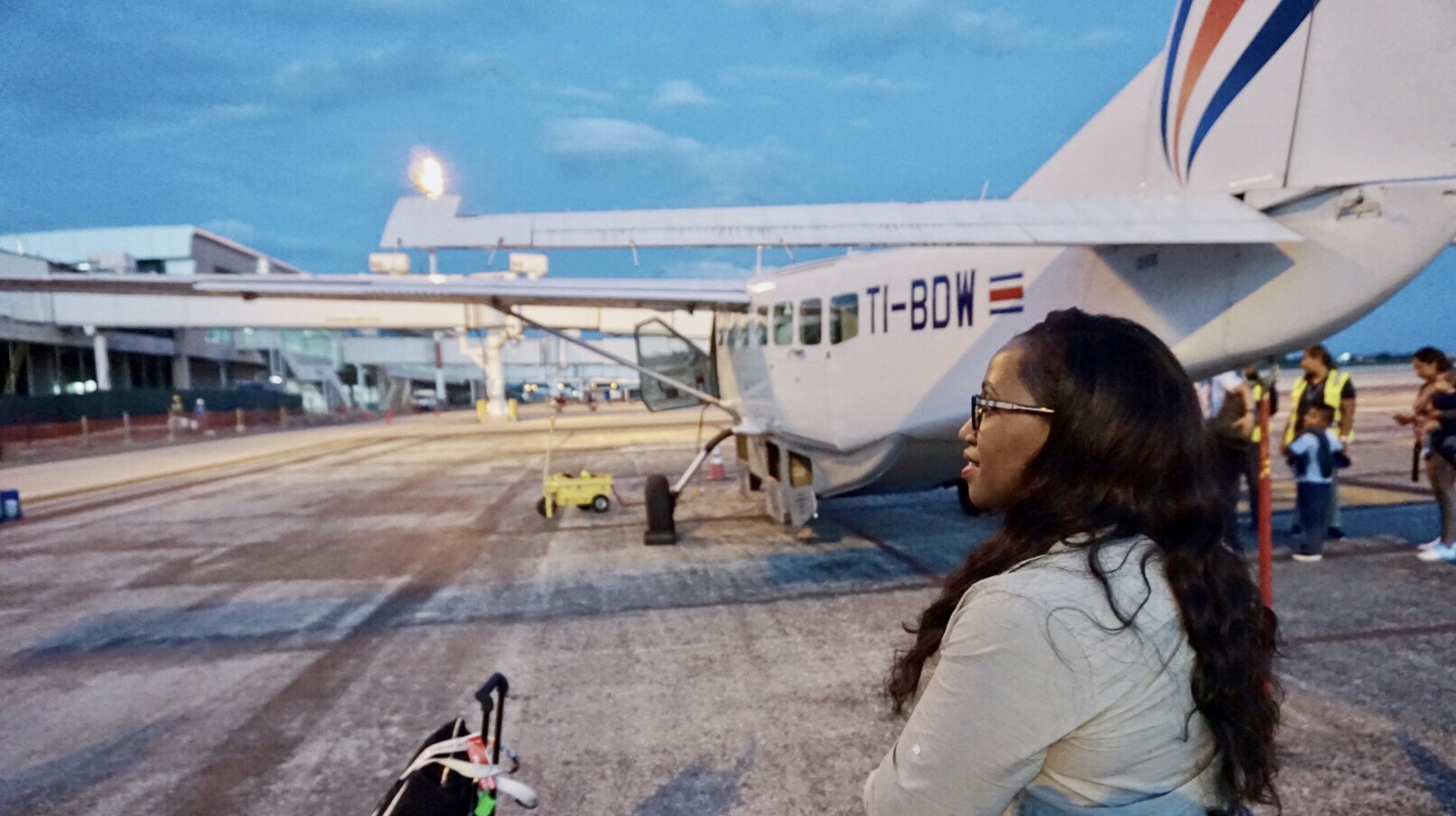 The ride was comfortable, although a little snug, but we made safely and fast!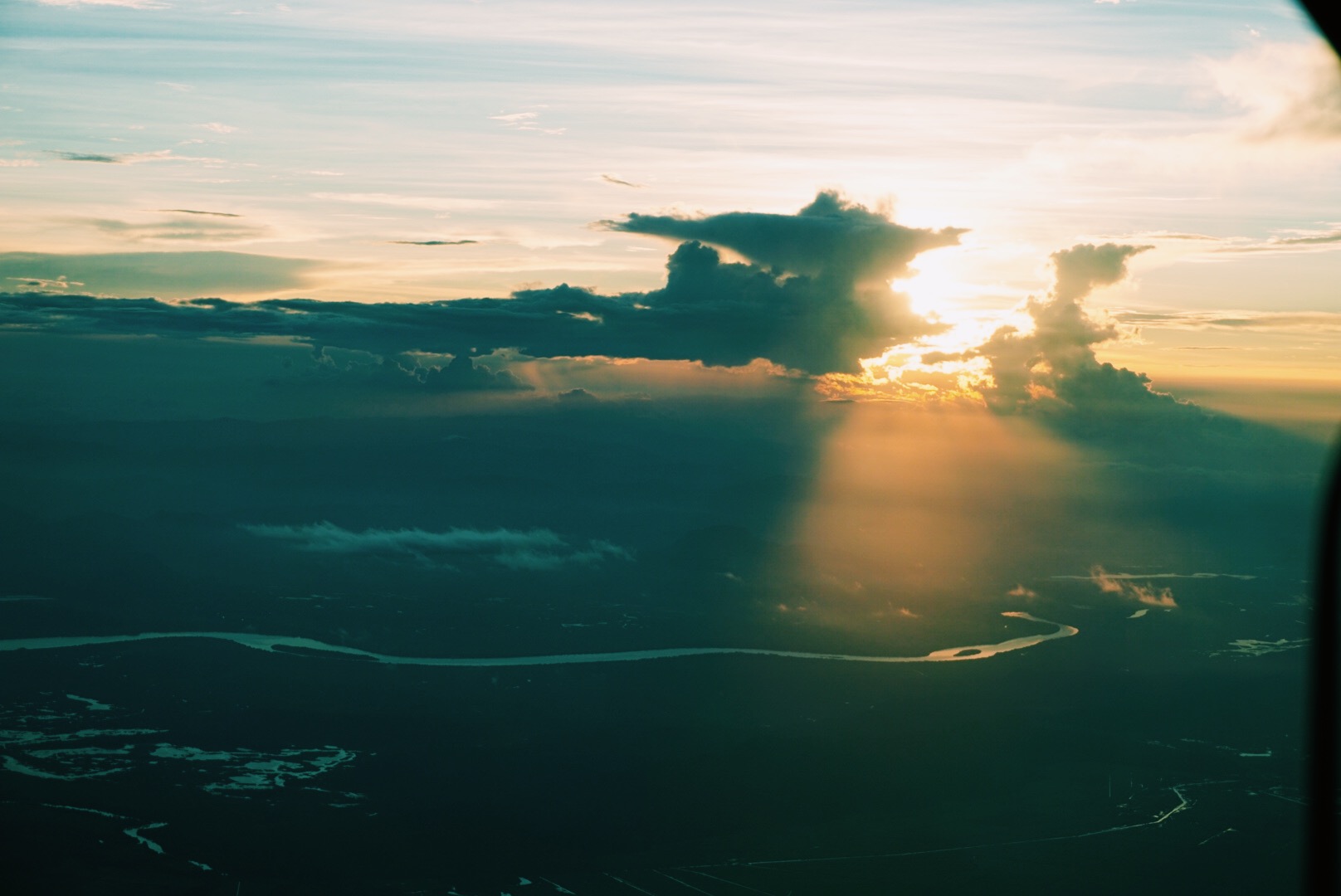 #3 Beware Of Hidden Car Rental Fees
Car rental may look quite affordable at first glance, but beware, those hidden fees add up. The trick is that rental car companies post these incredibly affordable rates on their websites and completely leave off the mandatory fees by law, that come with the contracts. I was made aware of those fees by looking up the best rental car companies in Las Catalinas, the small town where our resort was located. I like the convenience of having a car and driving around town, sight seeing on our own and checking out different spots. However, I suggest that you budget well if you plan on renting a car. Not only are there extra fees, but the company also puts a hold of  about $1000 on your credit card during the rental period. Last but not least, do keep in mind that most of their vehicles are manuals, so if you need to book an automatic you may have to pay extra and book ahead to guarantee that they will have a car available for you. 
#4 Plan Your Itinerary & Excursions Ahead
Costa Rica may be small in size, but because there aren't any "highways" it takes an average of 3hrs to get just about anywhere. For instance, when we left Las Catalinas to go to the Arenal Volcano area, it took us 4 1/2 hours of driving time. Imagine if we had to drive back to our resort that same day, that would be about 9 hours of driving. Who wants to do that while on vacation?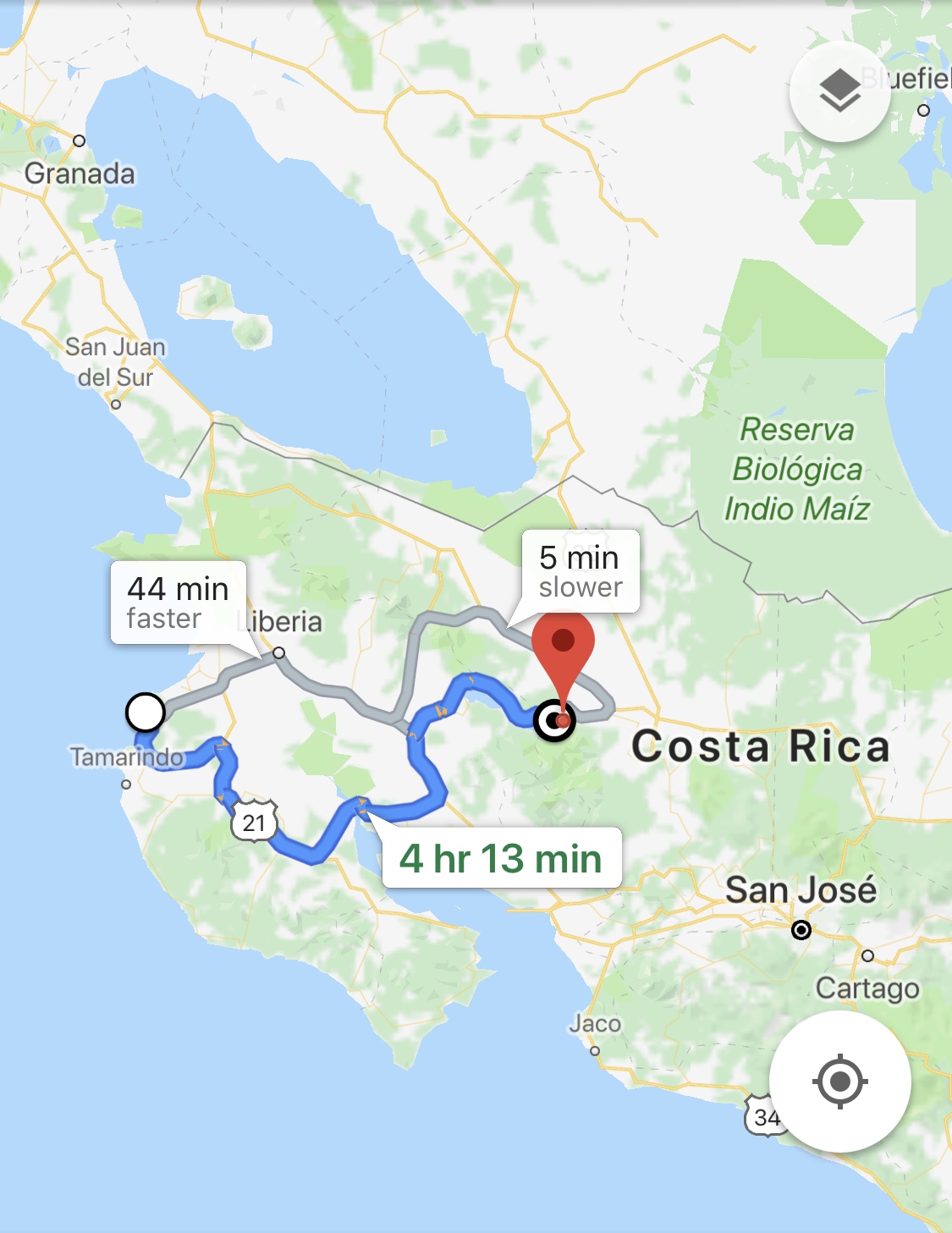 We thought it best to spend the second half of our trip in Alajuela and booked a resort there so we could cut down on traveling time. With that said, if you plan anything ahead of time, let it be your itinerary and excursions. Make a list of the things that you want to do, and the sites you want to visit, and find out how far apart they are, and what tours offer them.
If you plan sight seeing on your own, find out how to cover entrance fees and driving directions. I found that tours are a bit pricey in Costa Rica. If you're booking tours the costs will quickly add up, so find out what you can do on your own, and try to save some money there. 
You also have option of booking the tours with your resort concierge, which is what we did since we were pressed for time, and wanted to find the tours that didn't require a long drive from the resort. My husband wanted to go Zip lining, so we ended up booking a combo zip lining and ATV tour, which ended up costing $185 USD.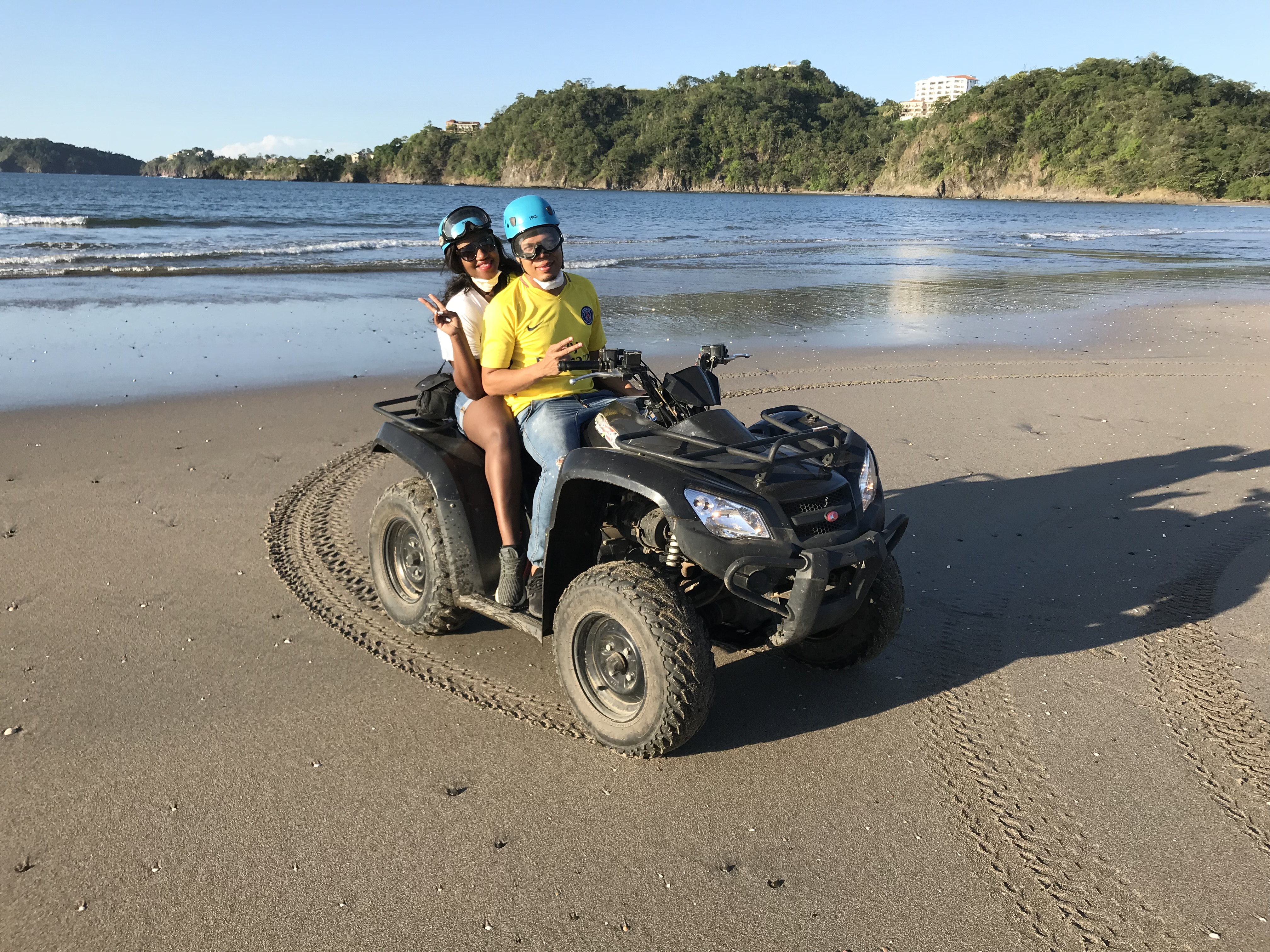 #5 Plan To Spend No Less Than 5 Days For Leisure Trips
If you really want to soak in the Costa Rica experience, do plan on spending at least 5 days. My only regret was not realizing that there was so much to see in Costa Rica. I do not think that this is the place for a weekend trip, you simply won't have enough time to fully enjoy the experience. How is one suppose to hike a volcano, go on a sunset cruise, see waterfalls, soak in mud baths, relax in hot springs, go zip lining in the forest in less than 5 days? Nearly impossible! Don't make the mistake that I did. Give yourself more time!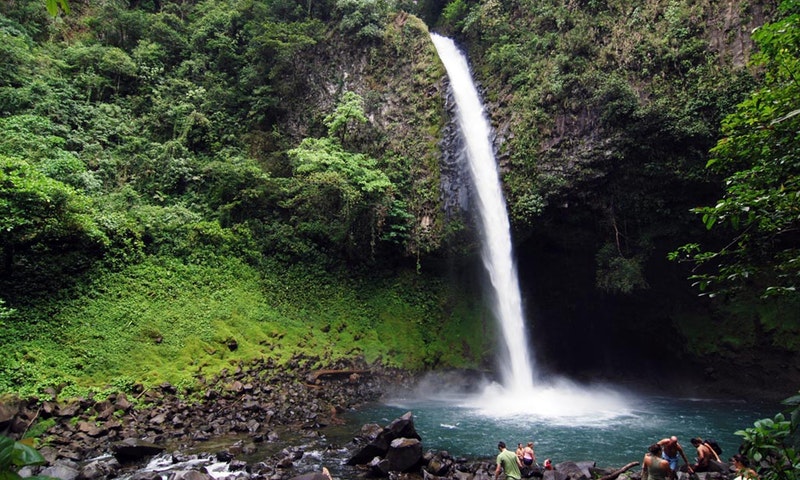 #6 Currency Exchange Isn't Mandatory
The US dollar is widely accepted across Costa Rica. We chose to skip the currency exchange because I read mixed reviews about the different rates, and places scamming tourists, even at the airport. Usually, I look up the banks that are within my bank network abroad, then take cash out of an ATM machine. That way, I don't get charged an exchange rate and I don't have to worry about being scammed. But since we were there for a short amount of time, we used our American Express credit cards, which are great for travelers because you don't get charged for foreign transactions  out of the country. We also carried around some cash for tipping and small expenses. 
#7 Be Prepared To Spend Money
Unless you're a backpacker or budget traveler, be prepared to spend some money. A trip to Costa Rica  translated " The Rick Coast" can turn out to be more expensive than you can imagine, especially when it comes to tours and transfers. Our airport transfer costs us about $140. Although we booked our transfer with the resort, we were surprised to find that some of the local companies were charging more for their fares. You may be able to cut on cost by eating at local restaurants, drinking tap water, buying spirits at the airport duty free shop, and so forth. I personally felt like the food was fairly priced, considering  our luxury hotel choices. However you'll easily pay $16 for a cocktail.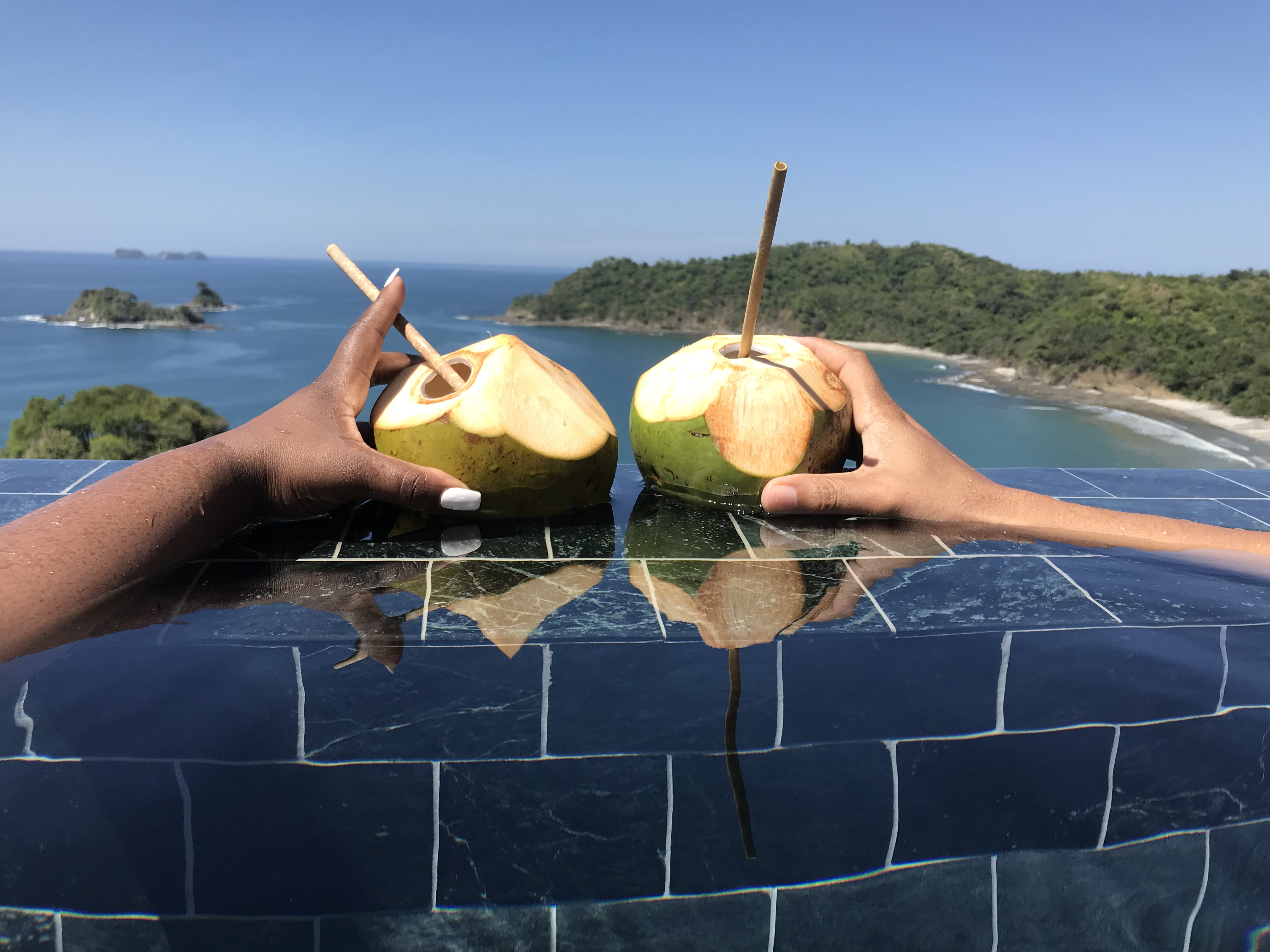 #8 Tap Water Is Safe To Drink
I'm usually very picky about drinking tap water when traveling. Being sick away from home is no fun! This is something most people won't even bother look up before they travel, but I do. After spending days drinking their water, I'm happy to report that me and my stomach are  absolutely fine! This is important because I have traveled to places where I won't even brush my teeth with the tap water just to be safe. But for Costa Rica, you have a green light my friend!
#9 If Traveling In Group, Vacation Rentals Are The Way To Go!
I have already decided that I must return to Costa Rica, and that time around I will be bringing along friends and family. Costa Rica has some AHHHMAZING villas! And they are very affordable for large groups! I don't usually recommend vacation rentals because I usually stay at resorts but when I looked into some of the luxurious villas in Costa Rica, I was blown away.  If you're traveling to Costa Rica in groups, skip the resorts, and go celebrity style by renting out a villa!
#10 Pack Light
It is highly unlikely that anyone who travels to Costa Rica for a at least 5 days will only stay in one location. Some airlines, particularly the small local ones have weight restrictions on luggages. Unless you plan on driving yourself, the lighter you pack, the better it will be to get around. The good thing is that Costa Rica has a very relaxed vibe, and you won't really need a suit or high heels unless you really want to. You will most certainly need tennis shoes, and pair of sandals, anything else is optional. So pack your most necessary items: toiletries, bug spray, medication, and your clothing items. Be sure to check your airline weight luggage restrictions to avoid unpleasant surprises at the airport. 
Hope you found the tips helpful. Be sure to  lookout for the next Costa Rica post!
Until then, Pura Vida!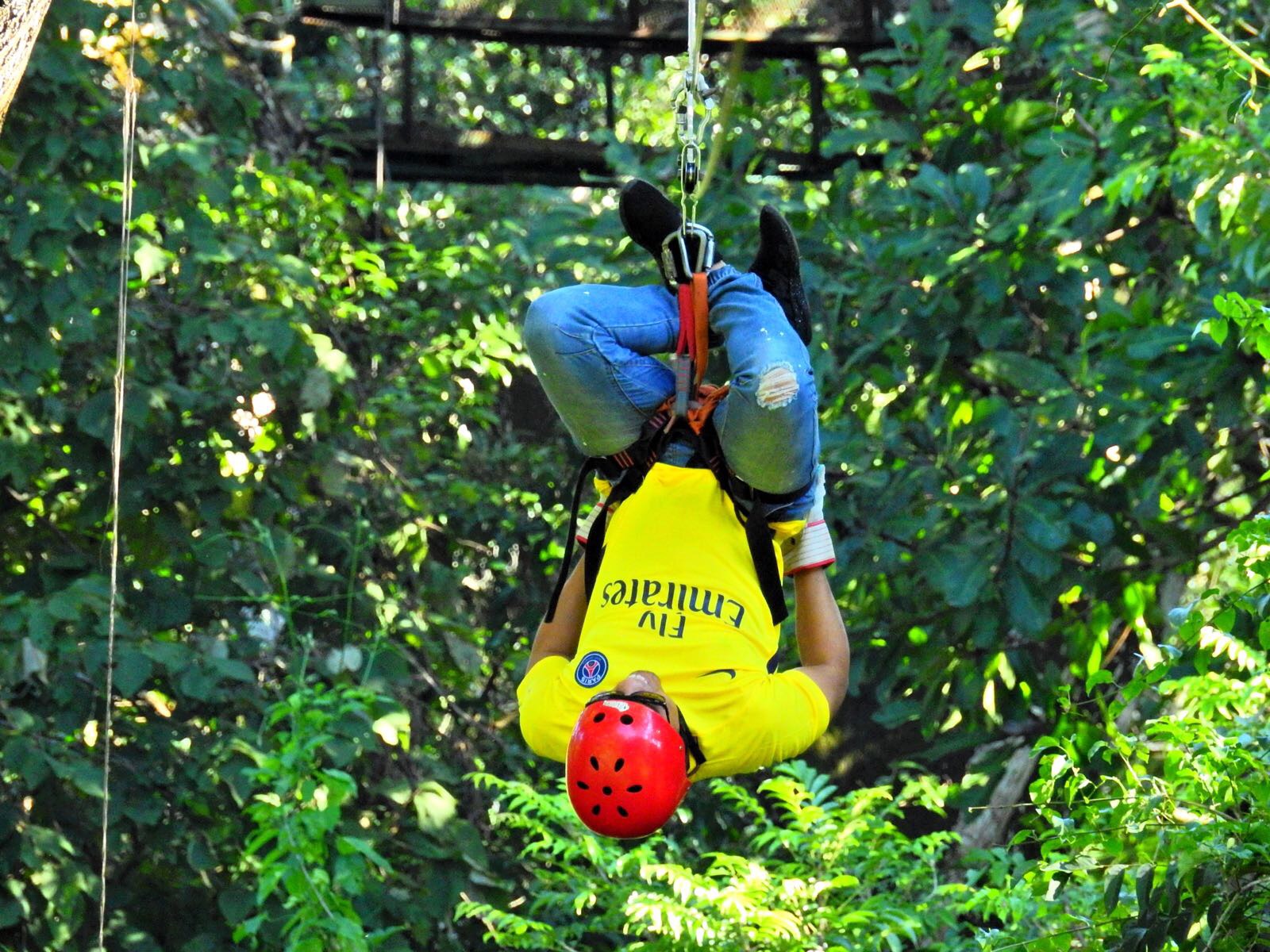 The following two tabs change content below.
Laura
I am an early childhood educator who has fallen in love with the life that I have been given. I am inspired by the beauty in everything that surrounds me to live my best life, loving my hardest, and traveling the furthest possible. Join me on my adventures through life.